Main Content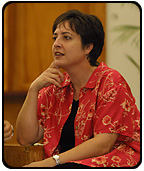 Taking the show on the road means walking across campus for a small group of Wake Forest University theatre students.
Enrolled in a seminar called ClassAct: Wake Forest, the young actors visit classrooms to perform short scenes to enhance lessons in sociology, political science, history and other courses.
ClassAct allows professors to use live performances in their classes to facilitate discussion and engage their students in different ways. Meanwhile, the theatre students get to hone their acting and directing skills.
Modeled on a program at the University of Wisconsin at Madison, also called ClassAct, the Wake Forest program involves undergraduate theatre students instead of the graduate students who participate at Wisconsin.
First, the professors select the scenes they want performed in their classes. Sometimes, the professors select scenes from plays they already use in their courses. In other cases, the instructors for ClassAct work with the professors to suggest scenes from plays that may help them illustrate particular concepts.
Then, the ClassAct students meet with the professors to decide on the two different interpretations that will be presented. The two different interpretations highlight concepts and ideas the individual professors want covered.
Next, the students scout out the space where the class meets, so they can adapt their performance to the space available. They brainstorm ideas and rough out the scene, rehearse twice and perform. Following the performance, the theatre students lead a discussion.
The actors use basic props and costumes, but nothing elaborate, said Leah Roy, visiting assistant professor of theatre at Wake Forest who co-teaches ClassAct with Cindy Gendrich, assistant professor of theatre. For most scenes, the actors will carry their scripts with them because the quick turnaround leaves little time to memorize lines.
"Undergraduates get the experience of learning how to act fast," Gendrich said. It is great for building audition skills, she says, but it also "gives the students a good sense that what we do—theatre—can touch everything."
"Professors may find ways to use ClassAct that are surprising," Gendrich said. A physics professor attended their first information session and talked with them about presenting a scene from the play, "Galileo," in his class.
For their first gig, the ClassAct students presented a scene from "The Patricide" by Mahmud Khoja Behbudiy in Michaelle Browers' "Islamic Political Thought" class.
"The performance of two competing interpretations of the play brought out many subtleties in the text that might not have been immediately apparent from a first reading and challenged students to consider the multiple ways in which this text could be put to use on stage," Browers said. "Considering the play as a performance as well as a text paved the way for a discussion of the role of the emergence and proliferation of varied forms of transmitting ideas in the context of modernization projects in Samarqand."
Scenes from Tony Kushner's "Angels in America" for a sociology class and "Yerma" by Federico Garcia Lorca for a Spanish literature class are on the schedule.
"We are all very enthusiastic about this project," said Joey Picard, a senior enrolled in ClassAct. "We take it seriously and we want to reach people."
Still, Picard was surprised at how receptive students were to his first performance. "I anticipated some people finding it dumb or corny, but everyone was attentive, cooperative and willing to learn," he said.
Categories: Arts & Culture, Campus Life, Student
Subscribe
Sign up for weekly news highlights.
Subscribe