Main Content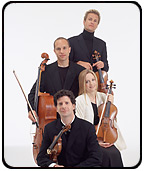 The St. Lawrence String Quartet and clarinetist Todd Palmer will perform Osvaldo Golijov's "Dreams and Prayers of Isaac the Blind" in a Secrest Artists Series Concert at Wake Forest University Nov. 6.
Haydn and Ravel are also on the program for the 8 p.m. concert in Brendle Recital Hall of Scales Fine Arts Center.
The St. Lawrence String Quartet is the resident ensemble at Stanford University, and has performed for more than a dozen years. The foursome regularly performs traditional quartet repertoire, but is also committed to presenting the work of living composers. Golijov, an Argentinean-American composer, was the recent recipient of the MacArthur "genius" grant. In addition to Golijov, the group has worked with R. Murray Schafer, Christos Hatzsis, Jonathan Berger, Melissa Hui and Mark Applebaum.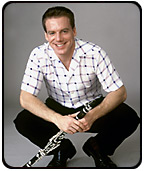 BBC Music magazine gave the St. Lawrence String Quartet's recording of Schumann's First and Third Quartets its highest rating, calling it a benchmark recording of the works.
Named after the St. Lawrence River, which cuts across the North American continent, the ensemble has strong ties to both Canada and the United States. Originally formed in 1989, the current St. Lawrence String Quartet members are: Geoff Nutall and Barry Shiffman, violin; Lesley Robertson, viola; and Christopher Costanza, cello.
The St. Lawrence String Quartet has played in many prestigious international venues. After winning both the Fourth Banff International String Quartet Competition and the Young Concert Artists International Auditions in 1992, the quartet made critically acclaimed debuts in New York City at the 92nd Street "Y," the Kennedy Center in Washington, D.C., and the Paris Opera.
In October 1993, at the invitation of Isaac Stern, the quartet performed at the White House for President Clinton as part of an evening that honored the recipients of the National Medal of the Arts.
The quartet has toured extensively in North America, performing in New York City at Lincoln Center's Great Performances series and the Mostly Mozart Festival and dozens of concert halls across the United States and Canada. The quartet has also performed in Brazil and Mexico, and traveled as far afield as Vietnam, where they performed a special televised concert.
"What sets apart great performances from merely good ones, in this or any musical literature, is conviction," wrote a Washington Post reviewer. "Like partners in a high-wire act, the St. Lawrence has complete faith in its skills and vision. By listening intently, we for a minute can share that thrill."
Scott Klein, professor of English and chamber music aficionado, will present a pre-concert talk at 7:10 p.m. in Room 208, adjacent to Brendle Recital Hall.
Tickets are $18 for adults and $15 for non-Wake Forest students and senior citizens. To purchase tickets, call the Wake Forest Theatre box office at 336-758-5295. For information, call the Secrest Artists Series office at 336-758-5101.
Categories: Arts & Culture, Events
Subscribe
Sign up for weekly news highlights.
Subscribe