Main Content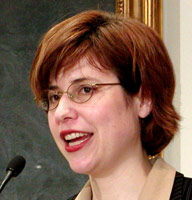 The Wake Forest University Divinity School has named Melissa Rogers, former director of the Pew Forum on Religion and Public Life, as visiting professor of religion and public policy.
Rogers, who has also served as general counsel to the Baptist Joint Committee on Public Affairs, will join the Divinity School in the spring semester. She will teach periodic courses in the Divinity School, provide guest lectures and facilitate student experiences in Washington, D.C.
"Melissa Rogers has written widely on issues of church and state in American life," said Bill Leonard, dean of the Wake Forest Divinity School and professor of church history. "She is an insightful analyst of American political life and its implications for religious communities. We are honored that she will be related to our school."
Rogers served as the first executive director of the Pew Forum on Religion and Public Life, which was created three years ago by The Pew Charitable Trusts to promote a deeper understanding of the influence of religion on the ideas and institutions of society in the United States and beyond.
She has recently done research and analysis on some of the more controversial aspects of President George W. Bush's faith-based initiatives, and she said she finds it exciting when scholarship informs ongoing debates in legislatures and the courts.
"I have long admired Wake Forest University for its outstanding academic record, religious heritage and commitment to religious freedom," Rogers said. "I look forward to joining other faculty in the Divinity School in creating conversations and spurring new research about the myriad ways in which religion, public policy and law intersect. I hope to serve as another bridge between Washington, D.C., and Wake Forest, helping students to identify career paths in this area and bringing the work of Wake Forest scholars to the attention of policymakers."
In addition to her ongoing research, Rogers is co-authoring a church-state law textbook for undergraduates that will be published by Baylor University Press.
Rogers is a 1988 graduate of Baylor University. In 1991, she earned a law degree from the University of Pennsylvania.
The Divinity School, which opened in August 1999 and graduated its first class in May 2002, prepares individuals for ministry in the Christian church. The school's curriculum blends instruction in traditional seminary subjects with courses taught by faculty of the university's undergraduate, graduate and professional schools. The school is Christian by tradition, ecumenical in outlook and Baptist in heritage.
Categories: Faculty, School of Divinity, University Announcement