Main Content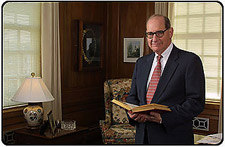 Wake Forest University President Thomas K. Hearn Jr. has responded well after brain surgery today at Wake Forest University Baptist Medical Center.
The surgery is related to Hearn's ongoing treatment for a brain tumor discovered this fall.
In an e-mail today to faculty, staff, students, alumni and friends, Provost and Acting President William C. Gordon announced the following:
"I am pleased to share with you information from Laura Hearn, who telephoned from the Medical Center at noon today. Mrs. Hearn reported that the surgery had been completed as planned and did not require as much time as had been anticipated. According to his surgeon, President Hearn is responding well," Gordon wrote.
Gordon added, "At the time Mrs. Hearn called, he had already been talking with members of his family as well as his doctors and nurses. This news is encouraging. Mrs. Hearn sent her thanks once again to all of you for your support. We will, of course, keep you informed as we hear updates on Tom's progress."
Hearn, who has been Wake Forest's president since 1983, informed the university community on Dec. 10 that he would be undergoing the surgery. In an e-mail to the community, Hearn also announced that Gordon had been appointed acting president by Board of Trustees Chairman Murray Greason.
In the e-mail, Hearn explained that his "recuperation will require my full energies and attention for some significant time."
The president first announced on Oct. 6 that physicians at Wake Forest University Baptist Medical Center had determined that he had a brain tumor. He completed radiation therapy for the tumor on Nov. 28 at the Medical Center. Throughout the fall, he had continued working in his office.
Categories: Faculty, Media Advisory, University Announcement
Subscribe
Sign up for weekly news highlights.
Subscribe