Main Content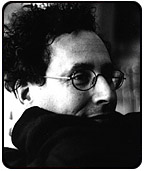 Tony Kushner, Pulitzer Prize-winning author of several plays, including "Angels in America," will give a free, public lecture at 7 p.m. Jan. 27 in Wake Forest University's Wait Chapel. The lecture will be followed by a book signing at the College Book Store near the chapel.
Kushner, an openly gay, Jewish socialist, is known for producing work that is largely politically motivated and primarily deals with moral responsibility during politically repressive times. He is the author of several critically acclaimed plays, including "A Bright Room Called Day," "Slavs," "Homebody/Kabul," and the seven-hour, two-part epic "Angels in America: A Gay Fantasia on National Themes."

"Angels in America" earned Kushner a Pulitzer Prize, two Tony Awards, two Drama Desk Awards, the Evening Standard Award, two Olivier Award Nominations, the New York Critics Circle Award, the Los Angeles Drama Critics Circle Award and the LAMBDA Literary Award for Drama.
A television version of "Angels in America" was produced by Home Box Office Films and premiered on the cable network in December. Mike Nichols directed the television version, which features actors Al Pacino, Meryl Streep and Emma Thompson.
His newest production is the musical "Caroline, or Change," which has been receiving positive reviews during an ongoing off-Broadway run. In addition, he recently published the picture book "Brundibar," based on the American version of the opera of the same name. The book was crafted with author and illustrator Maurice Sendak, who provides illustrations for "Brundibar." Kushner also wrote the text for "The Art of Maurice Sendak: 1980 to the Present," a new survey book of Sendak's illustrations and stage designs.
Kushner's talk, originally scheduled for Nov. 13, was rescheduled because of unexpected professional commitments in New York City. The lecture is part of the university's ongoing celebration of the 2003-2004 theme "Fostering Dialogue: Civil Discourse in an Academic Community."
During his visit to Wake Forest, Kushner is expected to give a lecture to a class in the theatre department. Kushner's visit is sponsored by the university's theme year committee, the theatre department, the journalism program, the Gay-Straight Student Alliance chapter at Wake Forest and the Adam Foundation, a local nonprofit organization in Forsyth County.
Additional information about the theme year's events is posted on the "Fostering Dialogue" Web site.
Categories: Arts & Culture, Events
Subscribe
Sign up for weekly news highlights.
Subscribe