Main Content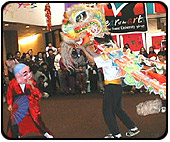 Wake Forest University will celebrate the Chinese New Year at its increasingly popular Chinese New Year Festival Jan. 24 from 11:30 a.m. to 3 p.m. in Reynolds Gym, Room 201. The festival, which is in its fifth year, is free and open to the public.
The Chinese New Year starts with the first new moon of the New Year and ends on the full moon 15 days later. This year on Jan. 22, the new moon will mark the end of the year of the sheep and the beginning of the year of the monkey.
Cristina Yu, a Wake Forest librarian, initiated the festival in 2000 with a grant from the university. In its five-year history, the festival has so increased in popularity that organizers moved it from its former location in Scales Fine Arts Center to Reynolds Gym where they could accommodate the growth.
"About 200 people came out for the festival the first year. Last year we had over 500, and many people have been calling me in anticipation of this year's festival. It is very exciting to see people young and old and of different ethnicities coming together to celebrate Chinese New Year, the most important holiday for the Chinese. They appreciate the opportunity to be exposed to various aspects of Chinese culture at the celebration," said Yu.
Students from organizations such as the Chinese Students and Scholar's Association and the Wake International Student Association traditionally volunteer at the festival, which features demonstrations and hands-on activities highlighting various aspects of Chinese culture and participants dressed in historical Chinese costumes.
Attendees can observe calligraphy and paper folding demonstrations as well as martial arts presentations. Popular highlights for children will be the traditional lion dance, performed by Wake Forest students in the Asian Student Interest Association; shuttlecock kicking, an ancient children's recreation; and a traditional Chinese dance performed by a group of costumed children ages five to eight.
Performances of the lion dance and the children's dance and demonstrations of shuttlecock kicking and martial arts will be held at 12 p.m. and 2 p.m.
Authentic Chinese cuisine from Winston-Salem's Peking Restaurant on Silas Creek Parkway will be available for a small charge.
The Chinese New Year Festival is made possible by a grant from the Wake Forest University Fund for Ethics and Leadership and is sponsored by Wake Forest's Chinese Student and Scholar's Association, the Asian Student Interest Association and the Winston-Salem Chinese American Association.
For more information, call 336-758-5675.
EDITOR'S NOTE: To arrange an interview, contact Pam Barrett at the News Service at 336-758-5237.
Categories: Arts & Culture, Campus Life, Community, Events
Subscribe
Sign up for weekly news highlights.
Subscribe