Main Content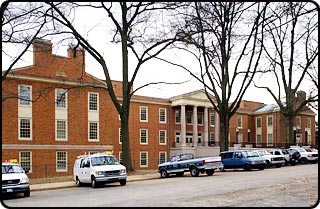 The expansion and renovation of Wake Forest's Calloway Hall, home to the Calloway School of Business and Accountancy and the math and computer science departments, is now complete. The newly named Calloway Center of Business, Mathematics and Computer Science consists of Kirby Hall, home to the Calloway School, and West Hall, home to the math and computer science departments. Work was completed over winter break.
Construction will now begin on Reynolda Park, a grassy, landscaped area outside the Calloway Center, between Kitchin Residence Hall and the new center in what is now Parking Lot M. Fencing put up during the Calloway Center construction will remain during the Reynolda Park construction.
The park will feature brick sidewalks, additional lighting, more trees and other landscaping. Screening walls will be built around the Reynolda Hall loading dock, and new curbs and gutters will be installed. Benches and tables also may be added.
Parking in the new area will be limited to the row of spaces nearest Kitchin Hall, and the driveway will be narrowed to 12 feet wide. Traffic will enter through the Kirby Hall side of the park and will exit on the Kitchin Residence Hall side. Construction is expected to continue throughout the spring semester and be completed in the summer.
The groundbreaking ceremony for Kirby Hall was held Oct. 4, 2001. Construction of the addition was complete in July, 2003. The new building temporarily housed all three departments during the renovation of West Hall this fall. Math and computer science faculty were moved to their permanent offices in West Hall during winter break.
Categories: University Announcement
Subscribe
Sign up for weekly news highlights.
Subscribe