Main Content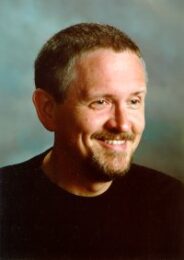 Orson Scott Card, the prolific Triad writer best known for his science-fiction book "Ender's Game," will present the lecture "On Fostering Dialogue" at 7 p.m. March 23 in Wake Forest University's Wait Chapel. The free, public event will be followed by a booksigning at the College Book Store on campus, next to the chapel.
The lecture is presented as part of the university's ongoing celebration of the theme for the 2003-2004 academic year "Fostering Dialogue: Civil Discourse in an Academic Community." The program is sponsored by the theme year committee and participants in the university's first-year seminar "On Science and Science Fiction."
Card, an award-winning author, teacher and columnist, has written several popular science fiction books in addition to "Ender's Game," including "Speaker for the Dead," "Xenocide," Children of the Mind," and "Ender's Shadow." His work has not been limited to science fiction as evidenced by his contemporary novels "Lost Boys," "Treasure Box" and "Homebody," which place an emphasis on character and moral dilemmas.
Another of his contemporary novels, "Enchantment," which was published in 1999, is a romantic fantasy that has Sleeping Beauty being awakened by an American graduate student in Ukraine in 1991.
Card has also produced a series of novels that offer a retelling of ancient Bible scriptures as science fiction. Many of Card's books have been translated into several languages, including Dutch, French, German, Hebrew, Italian, Japanese, Russian, Spanish and Swedish.
Several of Card's plays have been produced in regional theater, including the musical "Barefoot to Zion," which was written in collaboration with his brother, composer Arlen Card. The musical played to sold-out houses in Utah as part of the Mormon Church's celebration of the sesquicentennial of the entry of the pioneers into Salt Lake Valley.
In addition, Card has written two books on writing: "Character and Viewpoint" and "How to Write Science Fiction and Fantasy," the latter of which won a Hugo Award in 1991. He has taught writing courses, including his Literary Bootcamp at the University of North Carolina at Greensboro and Utah Valley State University. He has also taught a novel-writing course at Pepperdine University.
Card grew up in California, Arizona, and Utah, and he lived in Brazil for two years as a missionary for the Mormon Church. He received degrees from Brigham Young University and the University of Utah. He lives in Greensboro with his wife and five children.
For more information, call 336-758-4854.
Categories: Arts & Culture, Events, Speakers
Subscribe
Sign up for weekly news highlights.
Subscribe