Main Content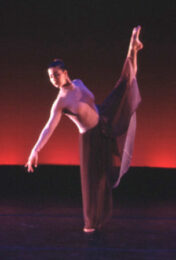 The Wake Forest University Dance Company will present its annual spring dance concert April 22-24 at 7:30 p.m. in Wait Chapel. Admission is $10 for adults and $5 for students, senior citizens and children. Advance tickets are available now.
The concert will feature ballet, modern and jazz works by senior student choreographers Mary Bonner Seay, Joanna Weinberg, Brady Millar, Ashleigh Harb and Kristin Duryea, juniors Jennifer Dice and Erin Rush and sophomores Sarah Perry and Emily Keeley. During the program, the dancers will perform to a variety of music selections ranging from Britney Spears to Frank Sinatra.
A highlight of the performance will be a social dance performance choreographed by Robert Simpson, Wake Forest adjunct instructor of dance, and performed by two Wake Forest theatre students.
Tickets may be purchased at the door or by calling the Wake Forest Theatre Box Office at 336-758-5295 between noon and 5 p.m. Monday through Friday. In case of rain on April 24, another event will be held in Wait Chapel, and the concert will be moved to Reynolds Gymnasium on the campus.
For additional information, call 336-758-5393.
Categories: Arts & Culture, Events
Subscribe
Sign up for weekly news highlights.
Subscribe