Main Content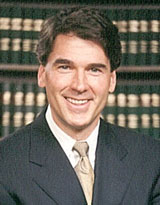 Richard Moore, North Carolina state treasurer, will speak at Wake Forest University at 3 p.m. Oct. 29 in Kirby Hall, Room 1. The event is free and open to the public.
Moore will speak on "Shareholder Responsibility in a Post-Enron World" as part of the Calloway School of Business and Accountancy's annual Joseph A. Jones Finance Lecture Series.
Moore is a graduate of Wake Forest and the Wake Forest School of Law and holds a graduate degree in accounting and finance from the London School of Economics.
The Jones Lecture series, established through a gift from Joseph A. Jones, a 1961 graduate of the Calloway School, brings distinguished members of the financial community to the university to discuss issues facing finance professionals and educators.
For more information, call 336-758-5110.
Subscribe
Sign up for weekly news highlights.
Subscribe