Main Content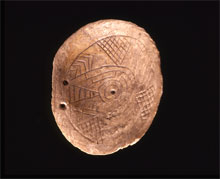 The Wachovia Historical Society and the Mission Society of the Moravian Church, South Inc. have given Wake Forest University's Museum of Anthropology more than 20,000 archaeological artifacts and 239 objects collected by Moravian missionaries.
The objects have been on loan to the museum since 1983.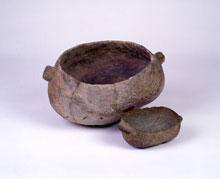 The artifacts from the historical society, including pottery, stone axes, spear points and shell jewelry, provide glimpses of Native American life along the Yadkin and Pee Dee Rivers from about 8000 B.C. to A.D. 1700. The artifacts are part of the Douglas Rights Collection formed in the 1930s and 1940s by the Rev. Rights, a founder of the North Carolina Archaeological Society and a well-known Winston-Salem Moravian minister. Rights, who died in 1956, was the author of the book "The American Indian in North Carolina."
Other donated objects include ivory knives, bentwood bowls, a belt made of caribou teeth and other tools, weapons, household items and clothing collected by Moravian missionaries in Alaska, Labrador and other locations during the 19th century.
"We've used the collection as a central part of many exhibits," said Stephen Whittington, director of the museum. "Through the years, many people have seen artifacts from the collection, but have not been aware of the history of the entire collection."
In addition to thousands of adult visitors, more than 7,000 schoolchildren come to the museum each year and have the opportunity to view objects from the collections, Whittington said. Many of the artifacts not on display in the museum are also used by Wake Forest faculty members and students for research.
"The mission of the Wachovia Historical Society is to keep history alive," said Sarah O.J. Hunter, president of the Wachovia Historical Society. "And, this gift to the Museum of Anthropology fits that goal by insuring that these collections continue to be exhibited in an appropriate setting, and are accessible to the public, particularly young people. We are happy to assist the museum, under the leadership of Dr. Whittington, to grow and thrive by making these articles part of their permanent collection."
Formally organized in 1895, the Wachovia Historical Society is the oldest historical society in North Carolina. Douglas Rights was the president from 1928 until 1956.
Some items were donated by the Mission Society of the Moravian Church, South Inc.
"We feel the Museum of Anthropology is the right place to display these artifacts," said John Geis Jr., president of the Mission Society.
The museum is in the process of creating a digital archive of the pieces in both collections under a grant from the Institute of Museum and Library Services, a federal agency. The archive will be available to the public starting in fall 2005 through a computer station in the museum.
Categories: Arts & Culture
Subscribe
Sign up for weekly news highlights.
Subscribe