Main Content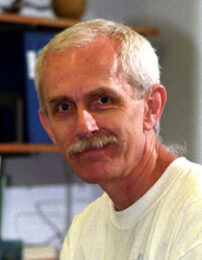 Clifford Will, one of the world's leading authorities on Albert Einstein's theory of general relativity, will speak at Wake Forest University at 8 p.m. March 17 in Pugh Auditorium in Benson University Center.
The lecture, sponsored by Wake Forest's department of physics, is free and open to the public. It is part of the 2005 World Year of Physics, a world-wide celebration to commemorate the 100th anniversary of Einstein's five papers that influenced all areas of modern physics. Will's lecture is also being held in conjunction with the 8th Eastern Gravity Meeting, a gravity research conference being hosted at Wake Forest.
Will is the James S. McDonnell Professor of Physics and is a member of the McDonnell Center for the Space Sciences at Washington University in St. Louis, Mo. His lecture "Was Einstein Right?" will be based on his book of the same title that focuses on Einstein's theory of general relativity and the experiments designed to test it. First published in 1986, the book was named one of The New York Times Book Review's 200 Best Books of 1986. In 1987, the book won the American Institute of Physics Science Writing Award, which is given annually to the best popular science book.
Will is known for his expertise in physics and his ability to make the subject understandable to the average person. He says Einstein's ideas led to the creation of several technologies we use every day, as well as an increased understanding of the world in which we live and its surroundings.
"These discoveries led to revolutionary applications such as lasers, semiconductors and nuclear energy," Will said. "Einstein's discoveries also altered forever how we think about space, time and the universe."
Greg Cook, assistant professor of physics at Wake Forest, says Will's expertise and public speaking skills made him the physics department's first choice when it came to inviting an expert to speak in celebration of the World Year of Physics.
"Testing Einstein's theory is the perfect topic and there is no one in the world who knows more about this," said Cook, who directed the effort to bring Will to Wake Forest. "We were thrilled when he accepted our invitation. Anyone with an interest in science should find his lecture intriguing and enlightening."
Cook is also the lead organizer of the 8th Eastern Gravity Meeting. The meeting, being held at Wake Forest for the first time March 17 and 18, is one of a series of regional conferences for researchers in the field of gravitation. Cook says the meeting differs from other academic conferences in that student researchers as well as experts are invited to participate.
"The meeting is designed to be friendly to students," Cook said. "Students are encouraged to give talks. Several of our students will be presenting their research."
One group involved in the meeting, the American Physical Society Topical Group in Gravity, supports a $200 prize for the best student talk.
Cook says when he volunteered to host a gravity meeting at Wake Forest, he did not plan on it coinciding with the World Year of Physics, but it was a stroke of good luck. He decided to build upon it by inviting Will.
Will has been teaching physics at Washington University since 1981 and is president of the International Society on General Relativity and Gravitation. He has published more than 160 scientific, semi-popular and popular articles and reviews, as well as the book "Theory and Experiment in Gravitational Physics."
Will earned a Bachelor of Science degree in applied mathematics and theoretical physics from McMaster University in Hamilton, Canada, and a doctorate in physics from California Institute of Technology.
Subscribe
Sign up for weekly news highlights.
Subscribe