Main Content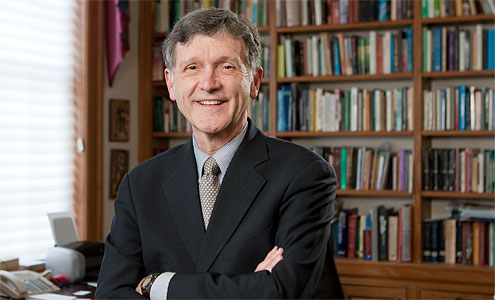 A new service award at the School of Divinity has been named for and awarded for the first time to Bill J. Leonard, the school's founding dean and a well-known Baptist historian.
The award was established and funded by James M. Dunn and his wife, Marilyn, to honor "the life contributions of Bill J. Leonard as teacher, scholar, historian and as the first dean of the divinity school at Wake Forest." James Dunn is the Resident Professor of Christianity and Public Policy at the divinity school.
The award will be known as the Bill J. Leonard Distinguished Service Award Pro Fide Et Humanitate. It will be presented annually to a faculty member, alumnus or friend of the divinity school who embodies the University's motto, Pro Humanitate, and the divinity school's commitment to diverse faith engagements and social justice, reconciliation and compassion in the Christian church.
Leonard was professor of religion and chair of the religion and philosophy department at Samford University in Birmingham, Ala., when he was named dean of Wake Forest's proposed divinity school in 1996. The school opened in 1999 and is celebrating its 10th anniversary this year. He is retiring as dean next summer, but he will continue to teach as chair of church history in the divinity school and the religion department.
A scholar of church history, Leonard has dedicated much of his career to the study of the Baptist church. Among his most recent books are "Baptist Questions, Baptist Answers" (Westminster/John Knox, 2009) and "Baptists in America" (Columbia University Press, 2005). Prior to joining the faculty at Samford in 1992, he taught for nearly 20 years at Southern Baptist Theological Seminary in Louisville, Ky.
Dunn was one of the first faculty members hired in the divinity school. He had previously spent nearly 20 years as executive director of the Baptist Joint Committee on Public Affairs in Washington, D.C.; he still works part-time for the Baptist Joint Committee as president of its endowment. Marilyn McNeely Dunn is a well-known Baptist musician.
The divinity school has about 120 students enrolled this year. The school offers a three-year Master of Divinity program and several dual degree programs including a Master of Divinity/Master of Counseling and a Master of Divinity/Juris Doctor, as well as a Certificate in Spirituality and Health, open to School of Divinity and School of Medicine students.
Categories: Pro Humanitate, Uncategorized
Subscribe
Sign up for weekly news highlights.
Subscribe