Main Content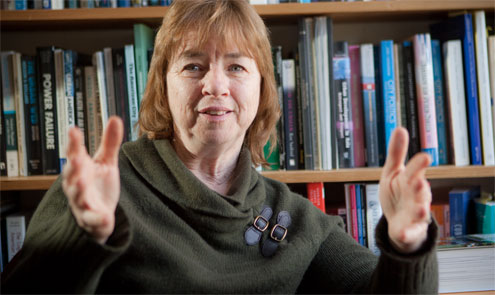 Michelle Obama may be the first African-American first lady, but in other respects she's not that different from her predecessors, says Professor of Political Science Kathy Smith, who studies first ladies. "Michelle Obama offers continuity to the past with her traditional interpretation of the first lady role," says Smith, the author of a chapter on Rosalynn Carter in the book "American First Ladies" and co-author of two books on the American presidency.
How does Michelle Obama compare to other first ladies?
Michelle Obama is often compared to Jackie Kennedy. The similarity has to do with the positive image she has had internationally and the impact she has had domestically on style. Jackie Kennedy did not take a controversial political stand and neither has Michelle Obama. She is much more like her Republican predecessor Laura Bush than Hillary Clinton and Rosalynn Carter, the wives of the most recent Democratic presidents. On her Web site, she identifies herself first as a mother. And, in other ways, she is also amazingly traditional. She is of a different color, but not of a different style. For some, that has been a surprise. She was so active as a campaigner that many thought she would be a more outspoken political voice once her husband was elected. But, she has not taken an overt political role. She has received praise from both sides for being a unifying person. The role of first lady is not connected to party affiliation. We can't categorize first ladies this way.
What is the role of the first lady?
First ladies don't have any constitutional power, but clearly have influence over the president. Any first lady has to fulfill several roles. She has to be a public communicator, who puts a personal face on the presidency. She, of course, also has a social role. She has to be a hostess, to entertain. She is also a representative for the president, expanding the ability of the president to be in more places. She is an advisor, either publicly or privately. She has a personal role, monitoring the wellbeing of the president and serving as a confidante. She is also an advocate.
All first ladies are now expected to have a cause. For Rosalynn Carter, it was mental health. For Lady Bird Johnson, it was planting wildflowers along America's highways. Laura Bush focused on literacy issues. Michelle Obama's cause — national service — is linked to her professional life and there is a sincere carry over into her public cause. She has also focused on helping military families.
How has the role of first lady changed in recent years?
The role of first lady has not changed very much. There are definite parameters around acceptable behavior for first ladies. Rosalyn Carter strayed out of bounds when she carried policy papers on a trip she made to South America. Hillary Clinton took on a central role in health care reform earlier in that administration, but then shifted back to a more traditional role. First ladies have traveled around the world independently and, in most cases, have not generated controversy, but traditionally media coverage is still oriented to fashion, image and style.
How did you become interested in studying first ladies?
I have visited the presidential libraries of several presidents, including Reagan, Ford, Carter, Kennedy, Eisenhower and Truman. In each archive, the number of letters sent from the public directly to the first lady is tremendous. They're not sending them to the president, but to the first lady, the more personal, approachable side of the American presidency. It is astonishing how many Americans look to that office as their link to the presidency. First ladies not only tell us something about the office of the presidency, but also about the changing mores of our political culture. When I discuss first ladies in my "American Presidency" course, students are particularly interested in first ladies and often choose to do research on them.
Categories: Arts & Culture, Faculty, Research
Subscribe
Sign up for weekly news highlights.
Subscribe