Main Content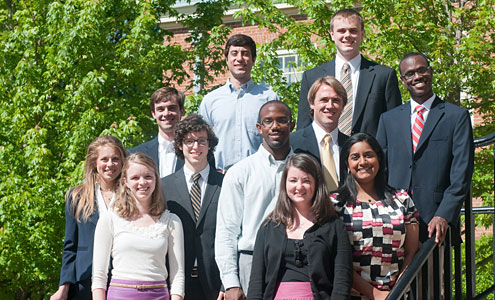 Fourteen seniors will remain at Wake Forest following graduation as Wake Forest Fellows, working in the President's Office, Information Systems, University Advancement and in other offices.
Each fellow will be a full-time University employee for a year. In addition to working in a particular department, the fellows will participate in leadership activities and interact with top administrators and faculty to learn about higher-education administration.
The Wake Forest Fellows for 2010-11 are:
Nitya Anand: Office of Diversity and Inclusion
Greg Banks: University Advancement
Rachel Cook: Provost's Office
Jermyn Davis: President's Office
Meredith Edrington: Office of Personal and Career Development
Gretchen Edwards: Information Systems
Meghan Haenn: Student Life
Marcus Keely: START Gallery
Adam Parker: University Advancement
Mark Russell: University Advancement
Kellyn Springer: Alumni Relations
John Track: Information Systems
Joshua Walters: Information Systems
Anthony Williams: Multicultural Affairs
Established by the President's Office in 2008, the fellows program grew out of the University's Strategic Plan as a way to provide highly capable graduates a chance to work in higher-education administration for a year.
Two of last year's six fellows are remaining at Wake Forest in staff positions, while the other four are going to graduate school or pursuing other opportunities:
Velvet Bryant, Provost's Office: Assistant Director of Institute for Public Engagement, Wake Forest
Darcy Delph, Information Systems: Pursuing opportunities in higher education and technology
Trayonna Floyd, Student Life: Graduate school, George Washington University
Lauren Hubbard, University Advancement: Leadership Giving Calling Officer, Wake Forest
Trevor Taylor, University Advancement: Pursuing opportunities in medicine and medical research
Matt Triplett, Provost's Office: Duke University School of Law
Categories: Provost, Student, Wake Forest College