Main Content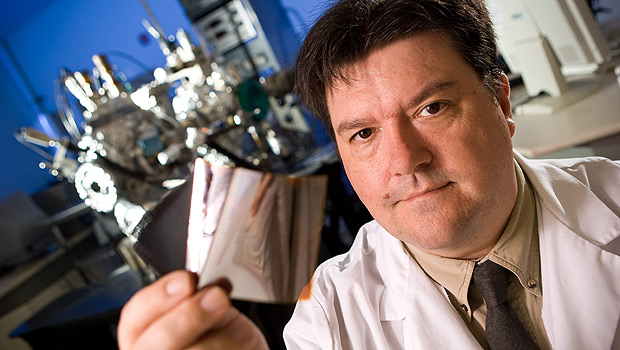 David Carroll dwells on the issues of dwindling traditional fuel sources every day.
He and his colleagues ponder, too, the worldwide demand for lower carbon emissions, from the largest industrial facility to the smallest car on the road.
But, as director of Wake Forest University's Center for Nanotechnology and Molecular Materials, Carroll is in a position to offer a solution.
Holding numerous patents granted worldwide and forging partnerships with such prestigious research organizations as the Max-Planck-Insitut für Metallforschung in Stuttgart, Germany, Wake Forest's Nanotechnology Center has gained an international reputation for developing cutting-edge energy technologies.
"We are a national-class research center focused on nanomaterials," said Carroll, Ph.D. "Our research strengths are solar cells, thermal electrics, battery technology, organic electronics — all related to energy technologies."
The center's 12 faculty affiliates also have made significant advances in nanomedicine — covering cancer therapeutics, nanotoxicology, nanopharmocology and orthopedics. Their research has been published in journals including the Proceedings of the National Academy of Sciences and ACS Nano.
Key projects for the center's research team include:
Conducting advanced testing on nano-enhanced therapeutics for liver and kidney cancers.
Creating new polymers for photovoltaics, which collect solar energy over large areas and promise to make solar energy affordable for even people with modest incomes. This cell, made of tiny fibers, will be available in 2012.
Developing a thermoelectric system made of a flexible plastic that generates energy from solar cells as effectively as traditional — and more expensive — materials.
The center's work on solar technologies has drawn interest from researchers around the world, who regularly work at Wake Forest as visiting scientists.
"This is the place that people come to learn how to make great solar cells," Carroll said.
Each year, Wake Forest is strengthening its international reputation as a center for solar energy and nano research. A new consortium of laboratories from Ireland to China will work with the Center for Nanotechnology and Molecular Materials to answer questions and confirm scientific findings about organic photovoltaics. The center also co-hosts an annual, invitation-only meeting of nanotechnology experts and policymakers. The Stuttgart Nanodays International Conference is held at the Fraunhofer Institute in Busnau, Germany, and has been attended by officials including a finance minister of the European Union.
It's all part of the center's desire to help set the agenda for nanotechnology research — and create technologies that make a difference, Carroll said.
"What we did very early on was set about search for ways our technologies can help people, in the spirit of pro humanitate," he said. "It's starting to change the way people think. Will we change how you live? Yes."
For details on the center's ongoing projects, visit https://www.wfu.edu/nanotech/.
Categories: Faculty, For Alumni, For Parents, Research, Top Stories
Subscribe
Sign up for weekly news highlights.
Subscribe