Main Content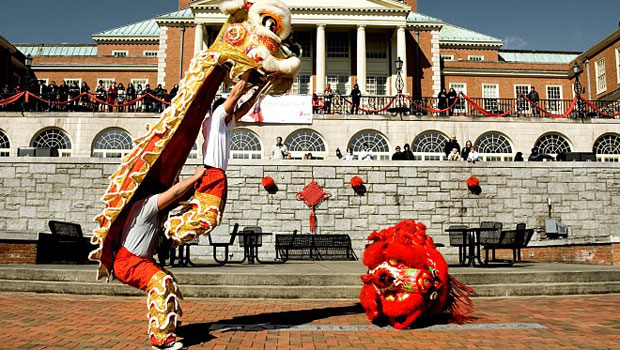 Wake Forest will celebrate the start of the Chinese New Year and the "Year of the Rabbit" with several events on campus on Feb. 5.
Highlighting the 12th annual Chinese Spring Festival is a performance of the traditional Lion Dance in the lobby of Scales Fine Arts Center.
The Lion Dance is associated with bringing good luck, says sophomore Xizi Liao, one of the student organizers of the festival. Loud drum beats and cymbals, together with the dragon or lion face and aggressive movements of the dance, are thought to frighten away the mythical beast, Nian, who according to legend, arrives on the first day of the new year with harmful intentions. Liao is from Shanghai.
The color red, which also scares away evil spirits, is equally important for welcoming the new year. "In China, adults often give red envelopes to children and put money in them," says sophomore co-organizer Felcia Poh, who is from Brunei, Malaysia. "For our celebration we'll be passing out red envelopes containing ancient Chinese coins and a card with a glossary of words related to the Spring Festival." The envelopes and decorations are authentic Chinese party favors.
The festival will also have activity booths for face painting and making origami rabbits. T-shirts and souvenirs will be available. Performances will be given by sophomore Yuhan Gao playing the gu qin, China's oldest stringed instrument. Junior Jean Chen will perform on the Chinese flute. A Greensboro performer, Wu Zeng Yan, will play the er hu.
Like all celebrations, food has a role to play in the festival. On Saturday afternoon, there will be a class for those interested in learning how to wrap and cook traditional Chinese dumplings. "There are some tricks to it," says Liao. "You don't want them to open up when they're cooking."
Dumplings are a part of the collective memory of the Chinese culture, and the entire family often takes part in their preparation. Liao says homemade dumplings are considered a blessing. "They differ from home to home. Every family uses different ingredients, which means every family's dumplings taste unique."
The festival is co-sponsored by the Office of Multicultural Affairs, the Asian Student Interest Association, the Chinese Graduate Student Association and the Chinese Studies Club.
"The festival celebration is not just about China," said Liao. "It's about peace, cooperation and respect among all people, and the Spring Festival aims to bring all cultures together. It's also an opportunity for people to experience international diversity without leaving Winston-Salem."
Categories: Arts & Culture, Community, Events, For Alumni, For Parents, International, Student, Top Stories, Wake Forest College
Subscribe
Sign up for weekly news highlights.
Subscribe