Main Content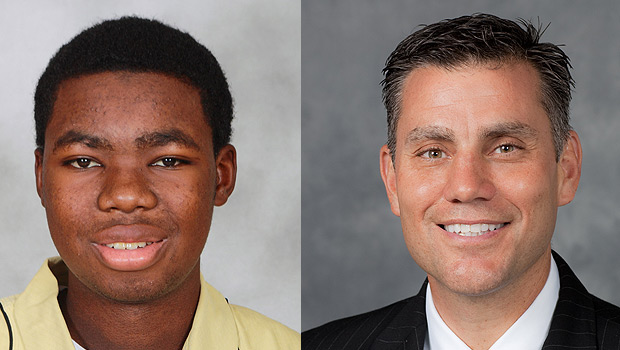 Update (July 27):
Kevin Jordan returns to campus for summer classes and training.
See the full story from WFMY »
Update (June 25):
Coach Tom Walter spoke about character, recruiting and his kidney donation to Kevin Jordan at the 2011 Summer Leadership Conference at The Homestead in Virginia on June 24.
See the full story from WFU Magazine »
Update (June 18):
Coach Tom Walter and outfielder Kevin Jordan were honored by the NCAA at the 2011 College World Series.
Update (March 18-19):
Baseball player Kevin Jordan returns to Wake Forest to attend his first games since receiving a kidney donation from coach Tom Walter in early February.
Update (Feb. 11):
Just four days after Walter donated a kidney to Jordan, Walter has returned to practice with the team.
Update (Feb. 9):
Baseball coach Tom Walter and player Kevin Jordan are both recovering well after kidney transplant surgery on Monday. Both expect to be released from the hospital this week and have been showered with support from the Wake Forest community.
Walter is planning to be at Wake Forest's season opener at LSU on Feb. 18. "I feel terrific," he said.
Jordan plans to re-enroll in June after recovering, and doctors say he should be able to return to his old self on the field.
"I'm just really thankful,'' Jordan said. "I don't think I have the words for it in my vocabulary. But thankful is as good as it gets.''
Read the full story in the Winston-Salem Journal »
Original story:
Wake Forest's slogan for the baseball team in 2011 is "What are you willing to sacrifice to help make this team better?"
Head coach Tom Walter's intent was to have his players thinking about sacrifice bunts, moving runners over, and giving up personal glory to help the Demon Deacons improve as a team.
But what Walter chose to sacrifice is greater than simply hanging in on a curve ball and taking one for the team.
Walter gave up a kidney.
In a procedure performed Monday (Feb. 7) at the Emory Transplant Center in Atlanta, Walter had one of his kidneys removed and donated to Kevin Jordan, a freshman member of the Wake Forest baseball team.
Read the full story on WakeForestSports.com »
Sign the guestbook: Share your thoughts with Walter and Jordan »
Categories: Athletics, Exclude from Related Stories, For Alumni, For Parents, Pro Humanitate, Student, Top Stories