Main Content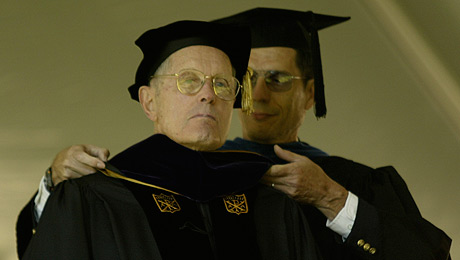 Philanthropist Fred M. Kirby II, past president of the F.M. Kirby Foundation and a longtime supporter of Wake Forest, has died. Kirby, who lived in New Vernon, N.J., died Feb. 8 at the age of 91.
"Fred Kirby's wise and generous interest in higher education has made an invaluable impact on teaching and learning at Wake Forest," said President Nathan O. Hatch. "Along with his wonderful family, we will miss him. We are grateful to have known Mr. Kirby and know that this university is a better place because of his philanthropy and his family's involvement here."
Kirby was president of the Kirby Foundation from 1967 until 2010. The foundation was started in 1931 by his grandfather, Fred Morgan Kirby, a merchant whose chain of dime stories merged with Woolworths in 1911.
The Kirby Foundation has made a lasting impact on Wake Forest with the establishment of the F.M. Kirby Chair of Business Excellence, the construction of Kirby Hall and the F.M. Kirby Faculty Fellowship.
Kirby's daughter, Alice Kirby Horton, is a current member of the University's Board of Trustees. Three of his grandchildren are Wake Forest alumni: Laura Horton Virkler ('95), a member of the College Board of Visitors; Ward Kirby Horton ('98) and Ashley Horton Freedman ('01).
He is also survived by his wife, Walker, and sons Fred M. Kirby III, S. Dillard Kirby and Jefferson W. Kirby.
Categories: For Alumni, School of Business, Top Stories, University Announcement, Wake Forest College
Subscribe
Sign up for weekly news highlights.
Subscribe