Main Content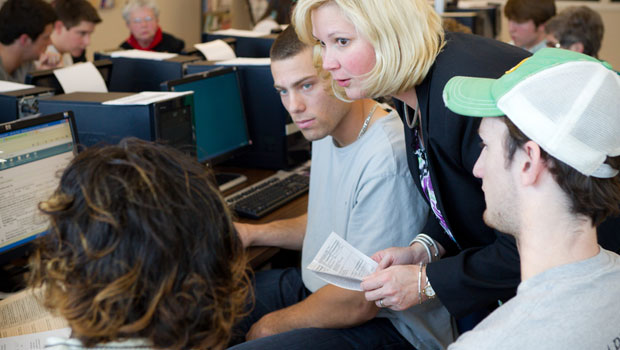 On Wednesdays, the Goodwill Industries in Winston-Salem turns into a temporary tax preparation office as more than 50 Wake Forest accountancy and law students are preparing tax returns for free there through April 16.
The students participate as part of the Volunteer Income Tax Assistance (VITA) program, which has sites set up throughout Winston-Salem. VITA depends on trained volunteers to help lower-to-moderate-income, elderly, disabled or non-English-speaking taxpayers file their tax returns. County residents qualify for this free income tax preparation service if a family makes up to $49,000 per year (or individuals up to $24,000).
According to the Forsyth Working Families Partnership there has been a 20 percent increase in the number of people looking for tax preparation assistance so far this year.
"The VITA program allows students to give back to the community while applying their knowledge," says Yvonne Hinson, associate professor and director of accountancy programs. "Many people think that since they don't owe, they don't need to file. We are there to help those people who can't afford other assistance."
Most of the students participating in the program are enrolled in Hinson's introductory tax class—fulfilling two of her top classroom priorities: community service and hands-on learning. Hinson made the project a requirement in her introductory course in 2000 when students learned to complete tax forms by hand before trying it online. "Hands-on experience is extremely important," she said. "I believe strongly that students learn best when they apply the course material in a real world setting."
This year, students are filing all tax returns online. Paper returns can also be provided upon request. Hinson says the service increases the accuracy of the tax returns filed and the speed with which clients receive refunds.
A complete list of VITA sites, hours of operation, and a list of documents to bring may be found at (www.forsythfreetax.org).
Categories: Community, Faculty, For Parents, Pro Humanitate, School of Business, School of Law, Student, Top Stories
Subscribe
Sign up for weekly news highlights.
Subscribe