Main Content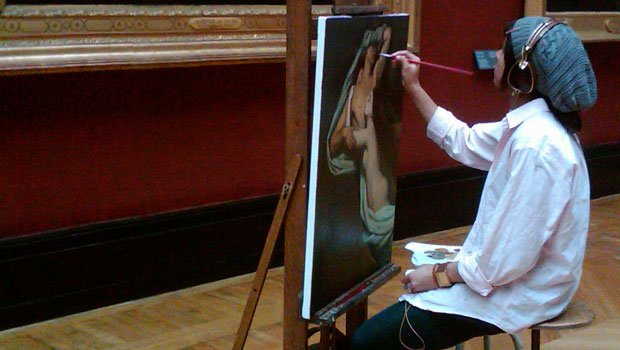 Imagine standing in the footprints of Mary Cassatt and Paul Cézanne, copying the masters in the Musée du Louvre to improve your artistic talents. Junior Amanda Bowers doesn't have to imagine. She has been living the experience.
Bowers, a studio art major from Haiku, Maui, in Hawaii, has been in France, this semester through Wells College Arts. In this Q&A, she gives us an idea of what it is like to be an art student in Paris.
What is your typical day like?
In the first five weeks of the semester I went through an intensive French course, then, after that was done, my mornings were spent painting in the Louvre about three days a week for four hours each day. I cannot emphasize enough how different my experience at the Louvre has been from classroom learning. No textbook, website or other resource could ever compare. The Louvre is about presentation and atmosphere. When you look at the palace from the outside, it's enormous. When you walk through the actual rooms, they're grand. When you stand next to the paintings, they're breathtaking! It is mind-blowing to see the actual work in person. When we're not in classes, I can explore the city of Paris with other students. Whether we are visiting galleries (aka the best homework ever), chilling at the fabulous parks, or meeting Parisians…there is always an adventure! My typical day also consists of eating some of the best food I have ever had.
What work did you copy?
I just finished copying "Les Ombres de Francesca da Rimini et de Paolo Malatesta apparaissent a Dante et a Virgil" by Ary Scheffer. My assignment for painting class was to complete the masterpiece in seven weeks. The original work may have taken years, so completing mine in such a short time was a challenge. Because I was able to spend a lot of time looking at the original work, I was able to find a hidden image in the painting that one would never see unless they were up close. It is crazy to think I have been there. (And that I maybe or maybe not spilled paint on the floor at some point. Oops.)
What is it like painting in the Louvre?
The Louvre has over 8 million visitors annually, averaging about 15,000 per day. I sat two rooms down from the Mona Lisa and next to one of most iconic paintings in French Revolution history, "Liberty Leading the People." By far, this has been the biggest test of my concentration skills—EVER. The Louvre has "no pictures" signs posted on our easels, and I was instructed to listen to music the entire time. In the beginning I thought this was too much to ask, but by the end, I was able to concentrate with thousands of people around me. There were huge tour groups that came through my room, and I often lost all sense of personal space. It was great to experience being around people from all over the world who would say things about my painting in different languages. But, if I stopped to answer one question, everyone else wanted to ask questions, too, which meant I would get less done on my painting. When I did start to get a little overwhelmed, I reminded myself where I was and what I was doing—painting in the Louvre in Paris!
What is going through your mind as you copy the masters?
Just being in the presence of these paintings, and knowing the artist was once in front of it adding the final touches, is astounding. In addition to my studio art major, I am earning minors in art history and entrepreneurship. Seeing how Paris preserves the history of art has been very inspiring. I have begun to understand and learn to appreciate not just what went into creating these works but what continues to be done to protect these masterpieces.
Did you learn any painting techniques?
I learned an ancient technique of oil painting that involved creating my own materials. I stretched my canvas, and made my gesso, emulsion, and oil paint from powder pigments. I realize now how truly passionate I am about art and how much joy it brings me to have it as a part of my life.
What is it like to be an American student in Paris?
The language barrier can make me feel vulnerable, but it also makes me interesting because I'm foreign. I started studying French at Wake Forest, so I'm not proficient. I have had to find ways to connect with people other than using words, and art has been one of these ways. Being an American is good and bad at times. There are some stereotypes with Americans, but when I make the effort to speak the language, people seem to appreciate it.
What do you hope to do when you graduate?
My dream job is to be a head designer or creative director. After I graduate I am not going to worry, but that doesn't mean I am not going to be networking like crazy. A lot of great things have been happening, and I feel really good about my art.
What piece of advice would you offer to other students?
Go abroad. It's never too late. If a program is not listed on the Wake Forest website, it doesn't mean you can't do it. I went through the process of getting this art program approved so that other students can do it in the future. Being in Paris and painting at the Louvre has been the greatest experience of my life so far. In Paris, I am learning to love—love myself, love what I do, love food, love music, and love life. I am seeing myself grow in ways I never thought I would. I am thinking differently, and it is very scary, but fascinating! Here, I have learned to enjoy my blessings as well as my mistakes. Because I have had this opportunity, it's easier to see myself doing other amazing things.
Karyn Dingledine and her husband, Tom (MBA '78), a member of the Board of Trustees, endowed the Karyn Dingledine Art Scholarship Fund for students planning to major or minor in studio art. Amanda Bowers is the first recipient of this scholarship.
Categories: Arts & Culture, Engaging in the Arts, For Alumni, For Parents, Humanities, International, Student, Top Stories, Wake Forest College
Wake Forest in the News
Wake Forest regularly appears in media outlets around the world.