Main Content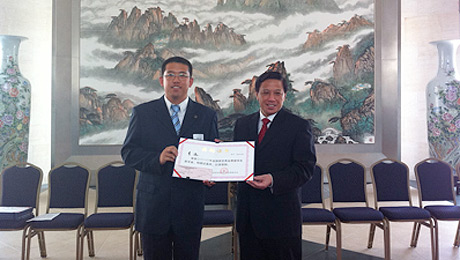 Yuan Li, a physics graduate student who conducts research at Wake Forest's Center for Nanotechnology and Molecular Materials, has been awarded the "Chinese Government Award for Outstanding Self-financed Chinese Students Study Abroad" by the China Scholarship Council.
Granted across all fields of study, the award was founded by the Chinese government in 2003 to reward the academic excellence of self-financed Chinese students studying overseas. Only those with outstanding performance in Ph.D. studies are considered by the award selection panel.
Yuan Li's research focuses on fiber solar cells, a new kind of photovoltaics for which Wake Forest has received a patent this year.
He was among 146 Chinese students in the United States to receive this year's award. Chinese Ambassador Yesui Zhang presented the award at a ceremony held at the Chinese Embassy in Washington D.C. earlier in June.
Yuan Li is the first Wake Forest student to win the award.
Categories: For Alumni, For Parents, Graduate School, International, Recognition, Research, Student, Top Stories
Subscribe
Sign up for weekly news highlights.
Subscribe