Main Content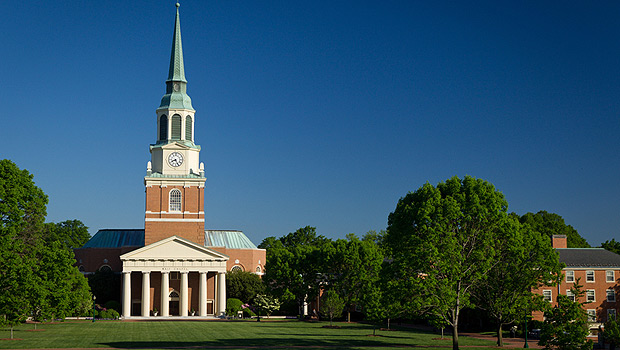 Wake Forest is opening its 2011-2012 academic year with a recently launched emergency website called Wake Alert. The centerpiece of a multi-faceted emergency alert system, Wake Alert is accessible to anyone at http://wakealert.wfu.edu.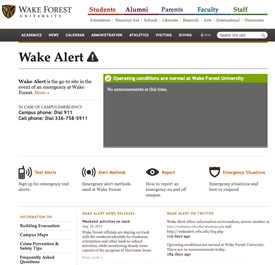 Wake Forest introduced Wake Alert last March, adding it to a list of emergency communication methods the university has steadily implemented. Wake Alert complements existing emergency text messaging, outdoor sirens across campus, and emergency alerts on the university's cable TV system. During emergencies, Wake Forest also can send e-mails to faculty, staff and students, as well as voice mail messages to faculty and staff. In addition, voice messages can be posted on a phone line reserved for announcements about emergencies and weather-related closings and delays.
The university is incorporating social media into its emergency communications plan. Follow Wake Alert on Twitter (@WakeAlert) to receive timely updates. Plans for a Wake Alert Facebook page are being explored. The University generally refers to the entire collection of alert methods as Wake Alert, too.
"Starting a new academic year with Wake Alert, we now have a website that offers a critically important information source whenever an incident poses a substantial risk to campus safety," said Ken Zick, dean and vice president for student affairs at Wake Forest. "This year, we will encourage our campus to turn to Wake Alert as the primary source for information in any emergency impacting campus operations."
During any emergency impacting campus operations, the Wake Alert website will provide timely warning and instruction to the campus community, while also informing students' families, the public and the news media.
The use of the various emergency communications methods will be determined by the exact nature of the emergency situation. During all emergencies on campus, a prominent alert message will appear at the top of the university's homepage (www.wfu.edu), with a link to Wake Alert. The most important feature of the Wake Alert website will be the initial announcements and subsequent updates that will appear at the top of the page. During normal conditions when there is no emergency, that area of the page will report "Operating conditions are normal at Wake Forest University."
At all times, the Wake Alert website will serve as a resource for information related to potential emergencies and proper responses, key university contacts in emergencies and crime prevention and safety tips. Campus maps will illustrate the location of emergency call boxes and evacuation assembly points.
The university invites comments and suggestions regarding the Wake Alert website. They should be directed to Kevin Cox at coxkp@nullwfu.edu.
Categories: For Alumni, For Parents, Top Stories, University Announcement
Subscribe
Sign up for weekly news highlights.
Subscribe