Main Content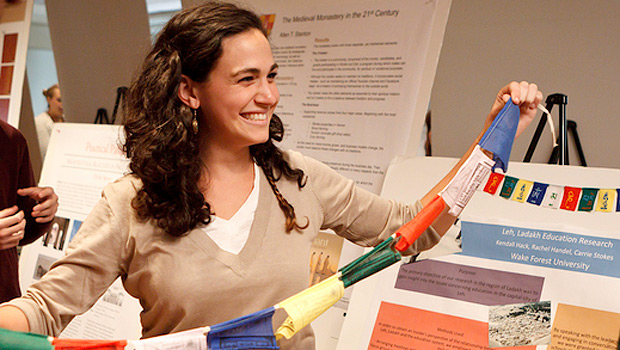 The work of 114 Wake Forest students was displayed at the fifth annual Undergraduate Research Day on Sept. 16 in the Benson Center. The event is organized by The Undergraduate Research and Creative Activities Center (URECA).
Students gave oral presentations and conducted discussion sessions in front of their posters.
The presentations were a culmination of a process that began with students submitting proposals to earn funds for their projects. Then students developed and executed their projects both locally and internationally in collaboration with faculty mentors. This year, 85 faculty members served as mentors for student projects, and 23 departments or programs from the College were represented. In addition, nine faculty mentors came from the Wake Forest School of Medicine and Wake Forest Institute for Regenerative Medicine.
The topics addressed varied widely, including:
"Enhancing host stem cell recruitment for in situ muscle generation"
"Prehistoric Yadkin River inhabitation: analysis through woodland ceramic traditions"
"Physical function, falls and fear of falling in older cancer survivors"
"Theatre education: promoting literacy in Peru"
"The political drama of Harold Painter: torture and the totalitarian state"
"Personality and social perception in Borderline Personality Disorder"
"How 1994 lives on: the teaching of apartheid in South Africa's classrooms"
"GLEE and Lady Gaga: A new American political model is "Born This Way"
"From stranger to brother? Exploring the relationship between racial context and interracial social contact"
Individual student investigations were supported by Wake Forest Research Fellowships, Richter Fellowships, ACC Inter-Institutional Academic Collaborative Fellowships, Reynolds, Carswell, and the National Science Foundation, National Institutes of Health, and Henry and Camille Dreyfus Foundation.
Categories: For Alumni, For Parents, Research, School of Medicine, Student, Top Stories, Wake Forest College
Subscribe
Sign up for weekly news highlights.
Subscribe