Main Content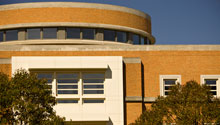 The Wake Forest Schools of Business recently has received national praise for succeeding in several aspects of its educational mission:
Moving Up in the Top 25 for Entrepreneurship
The Princeton Review and Entrepreneur magazine has once again ranked the Schools of Business among the top 25 graduate programs in the nation for entrepreneurship. Wake Forest moved up six places this year to #17 in the graduate business school ranking, out of more than 2,000 programs across the country.
Read more from the Schools of Business »
Committed to Social and Environmental Issues
The Schools of Business was again ranked among the Top 50 in the Aspen Institute's Top 100 MBA programs around the world for integrating social and environmental stewardship. Wake Forest ranked #44 globally in the 2011-2012 edition of Beyond Grey Pinstripes.
Read more from the Schools of Business »
Two-year M.B.A. program bucks the trend
Two-thirds of full-time, two-year programs offering the master's in business administration saw a decrease from last year in the number of applications they received for the 2011 academic year. The Schools of Business was among the institutions reporting an increase in the number of applications received for all of its programs. The number of applications for the full-time M.B.A. program grew by about 25 percent, said Matthew Merrick, the senior associate dean for students.
Merrick partly attributes the increased demand for Wake Forest's M.B.A. program to the school's emphasis on placing students in jobs once they leave. In recent years, the school has developed courses in career management and hired several career management officers to help guide students through the process. The program has a placement rate of more than 90 percent, and the master's of accounting science program has consistently placed 100 percent of its graduates.
Categories: For Alumni, For Parents, Recognition, School of Business, Top Stories
Subscribe
Sign up for weekly news highlights.
Subscribe