Main Content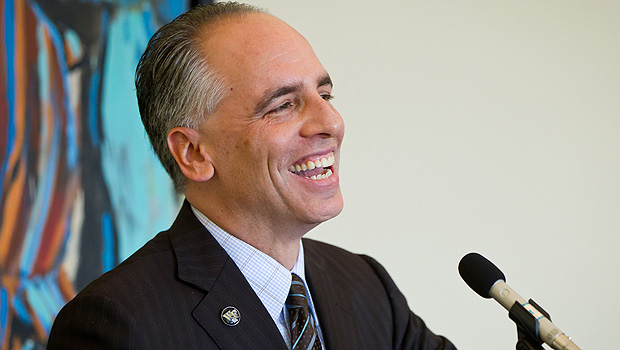 Wake Forest has appointed Rogan Kersh as the University's new provost and professor of political science.  A Wake Forest alumnus, Kersh currently serves as the associate dean of academic affairs and professor of public policy at New York University's Robert F. Wagner Graduate School of Public Service.
Kersh will assume his new duties as Wake Forest's chief academic officer with responsibility for supervising and administering the academic programs and plans of the university's Reynolda Campus this summer.
Kersh will report directly to Wake Forest President Nathan O. Hatch.  He will supervise the deans of the undergraduate College, the Schools of Business, the Graduate School of Arts and Sciences, the School of Law, the School of Divinity and the Library.
"Wake Forest was my first academic home," Kersh said. "During my undergraduate years and regular return visits to campus I developed an abiding devotion to the University; its faculty, students, and staff; and its traditions. I look forward to returning to my alma mater in a professional capacity."
After graduating with a B.A. in political science from Wake Forest in 1986, Kersh earned two masters' degrees and a Ph.D. in political science from Yale University, where he also began his teaching career. He taught political science and public administration at the Maxwell School of Syracuse University for ten years and has served in his current role at NYU since 2006. He also studies the U.S. health care policy system and is a nationally recognized expert on obesity. He is currently part of NYU faculty teams holding two separate National Institutes of Health (NIH) research grants on obesity politics.
In addition to his professional credentials, Kersh brings to the position longstanding connections to Wake Forest. He served for more than a decade on the selection committee for the Reynolds, Carswell, and other named merit scholarships, traveling to Wake Forest each spring semester for a four-day selection event.  Kersh also served as an informal mentor to several of the scholar recipients during and after their time at Wake Forest, as well as graduates who enrolled in masters programs at NYU, Syracuse, and Yale.
"I cherish opportunities to represent Wake Forest," Kersh said. Those opportunities have included representing Wake Forest as a Luce Scholar in Tokyo, Japan, and contributing to Provost Emeritus Ed Wilson's fifth volume of the History of Wake Forest. "Twenty-five years after graduating, I remain immensely proud to be a Demon Deacon," Kersh added.
He looks forward to the opportunity to meet with faculty, staff and students during his first months on the job to learn more about the University's recent achievements and challenges. "I am eager to begin work with President Hatch and the extraordinary team he has assembled to advance a range of priorities, from enhancing faculty teaching and research activities to supporting a student-centered educational experience."
A search committee chaired by  Hatch and composed primarily of faculty from Wake Forest's academic units recommended Kersh's appointment. He will become the fifth provost in Wake Forest's history, succeeding Jill Tiefenthaler who served as provost from 2007 to 2011.
"The appointment of a provost is one of the most important decisions that a University president must make," said Hatch. "Rogan brings recent and relevant leadership experience and a commitment to preserving the core values of Wake Forest while growing in new directions. He is a dynamic leader who has used his talents for teaching, strategic planning and administrative management to the benefit of every university he has served. I could not be more pleased to welcome him back to Wake Forest."
Since taking the associate dean role at NYU Wagner, Kersh has been active in every aspect of the school's operations, from strategic planning, budgeting, and fundraising to creating an undergraduate program and expanding the number of full-time faculty. He was also heavily involved in NYU governance, chairing or otherwise participating in approximately two dozen university committees and serving on the team responsible for NYU's expansive global network. Heavily involved in student life, Kersh and his wife, Sara Pesek, currently live among students in a residential community at NYU.
"Dr. Hatch and the search committee have identified a great candidate in Dr. Kersh," said board of trustees chair Jim Williams. "Rogan possesses an excellent combination of leadership, talent, and knowledge of Wake Forest. I look forward to working with him in the years ahead."
Kersh is active in the wider public-policy and political-science profession. He has worked with NYU colleagues to advance social justice and diversity issues at the National Association of Schools of Public Affairs and Administration (NASPAA). Two years ago he was elected as a Fellow of the National Academy of Public Administration.  Kersh currently serves as president of the American Political Science Association's organized section on health politics and policy.
Categories: 2012 Highlights: University News, Alumni, For Alumni, For Parents, President, Provost, Top Stories, University Announcement
Wake Forest in the News
Wake Forest regularly appears in media outlets around the world.