Main Content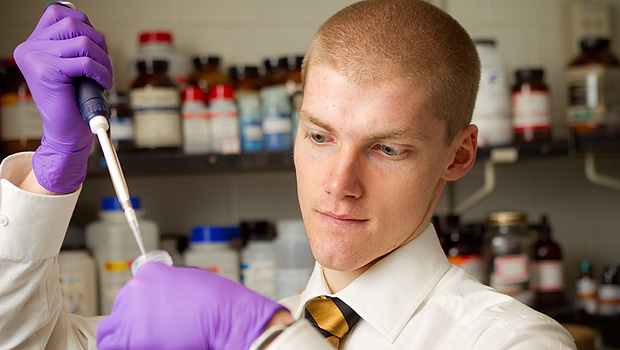 When Kent Langston first stepped onto the plush green grass of the quad, he hardly imagined the remarkable direction his studies would take in just one year.
This past summer, Langston completed a Wake Forest Research Fellowship with Dr. Jason Grayson in the Immunology Department at the School of Medicine. He dedicated countless hours in the lab — once coming in at 3 a.m. and not leaving until 9 p.m. to conduct an experiment — and showed that a high dose of antioxidants might actually impede the body's ability to fight off a virus.
Langston administered a potent antioxidant called MnTBAP to mice during different time periods of viral infection. His experiments demonstrated that the treatment actually reduced the number of virus-specific effector CD8+ T cells – which fight off and kill infected cells. He extended these findings to show that the antioxidant treatment also did not increase the number of long-lived memory precursor effector cells, which give rise to the memory cells responsible for providing lifelong immunity.
"That's not to say that we shouldn't eat blueberries or eat high antioxidant foods, but taking a high-dose antioxidant supplement from GNC after seeing the first signs of illness might actually be a bad thing," said Langston.
The sophomore is currently searching for the mechanisms by which antioxidants decrease the proliferation and programmed death of CD8+ T cells during acute viral infection. He will investigate whether these defects are due to environmental or intracellular changes resulting from antioxidant treatment.
"It was a lot more work than I thought. It takes a lot of hard work to actually come up with reproducible results," said the resident of Clinton, N.C. "But the generation of new knowledge is so satisfying that it makes all that hard work worth it."
A Poteat and Carswell/Mullen scholar, Langston began his exposure to the research field through a work-study job washing glassware in Grayson's lab in the fall semester of his freshman year. Langston became interested in the research and began reading books from the Z. Smith Reynolds Library on immunology. Impressed with Langston's level of motivation and knowledge of science, Grayson invited Langston to write a research proposal and start conducting experiments.
Langston has shared his passion for improving people's health outside the U.S. as well. Last spring break, Langston participated in a service trip to El Salvador with the Christian Medical/Dental Association, attending to more than 1,100 cases ranging from diabetes to bacterial infections.
Langston recently declared his major in chemistry with a biochemistry concentration. Ultimately, he plans to pursue an M.D./Ph.D. for a career as a physician-scientist, specializing in endocrinology and metabolism. His ambition reflects the commitment he's willing to make.
"I found that what we do here — studying for long hours and spending a lot of time in the lab — is actually the first step toward working the long hours that are required in real scientific research," he said.
Categories: For Alumni, For Parents, Research, School of Medicine, Student, Top Stories
Subscribe
Sign up for weekly news highlights.
Subscribe