Main Content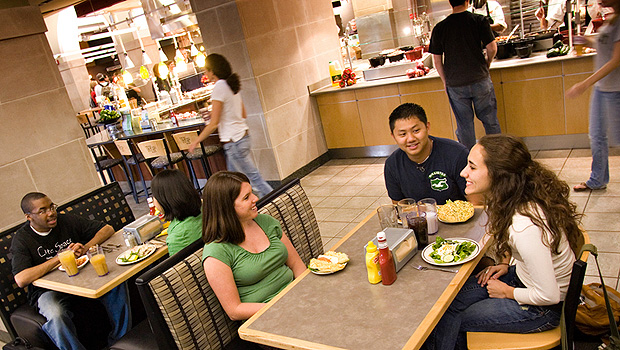 More variety, healthier options, more flexibility and extended hours of operation – Wake Forest students asked for these improvements and next fall they will get to enjoy several enhancements to campus dining.
"Over the past few years, areas of concern about dining on campus shifted away from quality and service and began to focus on variety and the availability of healthy food," said Assistant Vice President of Hospitality Services John Wise. "We pulled together a committee of faculty, staff and students last summer to address these issues and review the recommendations of two independent studies."
Wise explained that the committee benefited from multiple perspectives on how to improve dining options on campus. "The plan that the committee generated acknowledges that dining is part of the social fabric of campus," he said. "We heard from students about food and venue options. We heard from faculty and staff about location, and we heard from administrators and trustees about using the opportunity to build a sense of community."
"I'm a night owl," said Student Government President Nilam Patel. "I'm looking forward to more late night options." As a member of the committee, Patel helped to voice student concerns and influence the outcome of the new dining plan. "I'm happy that we are seeing immediate change," she said. "What we worked for is definitely going to improve the student experience at Wake Forest."
Beginning with the fall 2012 semester, the Subway on the Quad will stay open 24-hours a day, 7 days a week. Additionally, a late-night burger or breakfast option will be available in either Shorty's or the Pit from 11 p.m. – 3 a.m. The Pit will operate on a 24-hour schedule during the 10-day period surround spring and fall semester exams.
Hamlin Wade, student chair of the dining commission, said "Above all, I think that students will really appreciate the variety of options that will be available on campus," he said. "With a new, healthy salad station, a brand name Tex-Mex restaurant, Chick-fil-A, a gourmet sandwich station, Shorty's and an all-you-care-to-eat dining option in the Pit, students will have a plethora of options."
One of students' biggest concerns has been overcrowding in the Pit. The added hours of operation will help address this issue, as will the ability to use Old Gold swipe cards at more locations.
Beginning in the fall semester, Old Gold swipe cards can be used at all of the retail outlets on campus with the exception of Shorty's and the Grab-n-Go Stores. Menus at places like Chick-fil-A in the Benson Center will designate Old Gold Combo Meals that can count against the meal plan. One night each week, the Magnolia Room will serve a special meal that can also count against the meal plan.
New and expanded facilities will also ease crowding. Plans are in the works to build a dining facility near the new residence halls on the North side of campus. Initial plans for the new facility include an a la carte concept, a food court meal plan program, a Starbucks and a convenience store. This dining facility will complement food services planned for Farrell Hall. More immediately, the Subway on the Quad will be expanded over the summer to add approximately 50 indoor seats.
Implementing these enhancements to campus dining does come at a cost. Returning students can expect a 7.8 percent increase to the minimum dining plan required for upperclassmen. "We have been able to keep meal plan prices very stable over the past decade by continually striving to provide quality dining at an economical price," said Wise. "As a result, the cost of Wake Forest dining plans remains among the lowest of our peer institutions."
A full list of meal plan rates can be found at http://www.campusdish.com/en-US/CSSE/WakeForest/DiningMemberships/
Categories: For Parents, Student, Top Stories, University Announcement
Subscribe
Sign up for weekly news highlights.
Subscribe