Main Content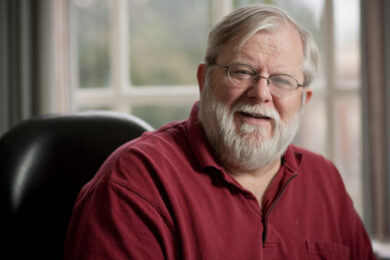 Whether they are being humble in victory or attributing their team's poor performance to fate, college basketball coaches follow predictable patterns in their post-game comments, according to associate professor of communications John Llewellyn.
He studied 24 years worth of Division I men's college basketball coaches postgame interviews from men like Bob Knight, Dean Smith, Mike Krzyzewski and Tom Izzo for a chapter titled "Coachtalk" in the book "Case Studies in Sport Communication." His research found that the most consistent theme with losing coaches is an acknowledgement of the winner, combined with deference or an alternate definition of winning such as "It's just an honor to be here." Among winning coaches, Llewellyn found they often acknowledge the suffering it took to make it to the top, while reinforcing the traditional values of sport. Both sides frequently acknowledge tournament time as a "second season" and a chance to for rededication and renewal. "The meaning of winning is constructed and re-constructed with each win or loss," Llewellyn says. "Coachtalk is the language coaches use to generate hope and explain outcomes. It sustains the culture of sports."
Contact:
Kim McGrath, mcgratka@nullwfu.edu, 336.758.3209
Stephanie Skordas, skordas@nullwfu.edu, 336.758.3826
Categories: Media Advisory
Subscribe
Sign up for weekly news highlights.
Subscribe