Main Content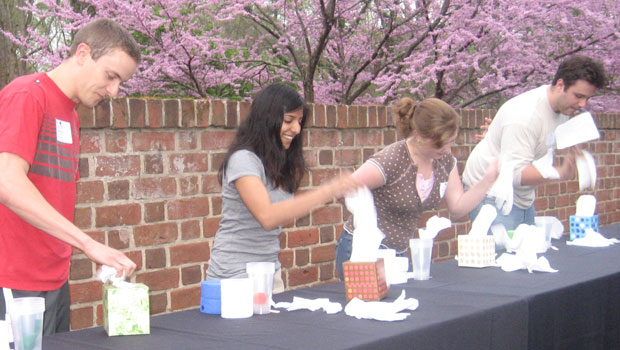 Neither wind, nor rain, nor the threat of lightning dampened the spirits of 30 Wake Forest students who, with tents, sleeping bags and pillows in hand, arrived at the home of Wake Forest President Nathan O. Hatch on Friday, March 23, for Camp Hatch 2012.
Now in its second year, Camp Hatch offers students the opportunity to camp out on the front lawn of the President's home while enjoying food, games, and the chance to interact with Hatch and his wife, Julie, in an informal setting.
"Julie and I love to meet as many Wake Forest students as possible, and we prefer informal situations. This encourages a kind of give-and-take that helps us get to know them and the issues they are facing better," said Hatch.
Campers took part in the first-ever Camp Hatch Cup, a competition featuring a series of challenges, which put the contestants' focus and concentration to the test. The winning team, who adopted the moniker, "Hatch's Finest," took home Camp Hatch Cup trophies.
Campers also enjoyed an outdoor screening of "Ferris Bueller's Day Off" on a giant, inflatable screen, made s'mores over an open fire and were invited to tour the President's home.
Although the event was cut short due to inclement weather, students said Camp Hatch 2012 was a success. "I think Wake does an amazing job when it comes to breaking down the barriers that prevent students from feeling comfortable interacting with faculty and administrators. An event like Camp Hatch is just one example of many that make me realize how lucky I am to be a part of such a special and unique community," senior Carrie Stokes said.
First-year student Nirali Vagadia agreed with Stokes' sentiments, adding, "Wake Forest is truly like a family."
Categories: 2012 Highlights: Life on Campus, Events, President, Student, Top Stories, Uncategorized, Wake Forest College
Subscribe
Sign up for weekly news highlights.
Subscribe