Main Content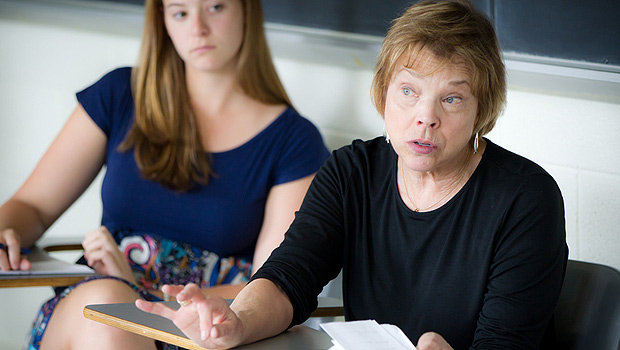 When Mike Bevan's father died suddenly last year, he dutifully stepped into a family leadership role.
To help his mother, the senior history major from Winston-Salem immediately assumed household responsibilities great and small – from handling the insurance policies to winterizing the lawn equipment.
He also enrolled in "Fathers and Daughters," the only known college class in the country devoted exclusively to dad-daughter relationships, to help his sister cope with their loss.
"I'm the next male role model in her life," said Bevan ('12), an ROTC student following in his father's military footsteps by commissioning as a Second Lieutenant in the Army upon graduation. "I'm thankful that he taught me how to solve problems and become financially independent. I want to help my sister with that as best I can."
Professor of adolescent and educational psychology Linda Nielsen, a nationally renowned expert on father-daughter relationships, has taught the course for more than 20 years.
Her latest book, Father-Daughter Relationships: Contemporary Research and Issues, examines what improves or weakens these relationships and their impact on society. Written to aid social workers, family counselors, mental health practitioners and educators, Nielsen's special interest is helping divorced and estranged dads and daughters reunite or strengthen their bonds.
"In the legal system during custody cases and too often in the college curriculum, fathers are treated unfairly in terms of sexist, denigrating stereotypes that portray mothers as superior to fathers. In our society, we still tend to denigrate, demoralize, disenfranchise and demean dads," said Nielsen. "One of the goals of the 'Fathers and Daughters' class is to help male and female students recognize these negative stereotypes and move beyond them to create or to help others create more meaningful relationships."
For Bevan, whose healing and adapting process continues, the class has provided an opportunity to share personal insights about fathers in military families while learning how to help his sister now that their father is no longer alive.
Read what other students have to say about "Fathers and Daughters."
Dina Nosenko ('12), Psychology Major from Ukraine
"I have a good relationship with my father, but in my country, the father is an authoritative figure. Dr. Nielsen makes me think of my father more in an intimate way. I now think about his feelings."
Nonsenko said class assignments, such as an interview with her father, have made them closer even though they are thousands of miles away. In conversations related to her assignments, Nosenko first heard the story of how her parents met, read the love letters they wrote to each other when they were her age, and talked to her father about why they married after just two weeks.
She said it's important that women look for something meaningful in their relationships, a common ground that binds them. She strengthened her bond with her father when she learned that he, too, was uncertain about his future at one time.
"He said, 'I have no idea what I'm going to do. I remember it was the scariest time of my life.' Knowing that he felt the same way and would support me no matter what was reassuring."
Sharonna Taylor-Howard ('11), Spanish Major originally from Pittsburgh, Pa.
"Sometimes you just need to start a deeper conversation."
Not only did Taylor-Howard want to improve her relationship with her father, but – as the only person in the class with a child of her own – she also wanted to better understand the perspective of her two-year-old son's father.
"A lot of the research we read on fathers, and particularly African American, young, single fathers, applied to me," said Taylor-Howard, who now works in the Office of Academic Advising.
"One thing Dr. Nielsen talks about is phoning your dad to talk about more than just money or because your car isn't working," she added. "Now I find myself calling him for relationship advice, which is usually what I would have called my mom for. But I've realized that since my dad's a man, he can tell me better."
Maria Binney ('12), Psychology Major from Roswell, Ga.
"I think that 'Fathers and Daughters' may be the most important class I have taken in college. Not only did we learn about all types of diverse family structures including divorced parents, biracial parents, gay parents, families living in poverty, and a variety of other situations, I learned something valuable that is not taught in any other class: to value my own family."
Even though Binney always considered herself close to her father, she said Nielsen's course and books are full of advice for both fathers and daughters on how to communicate more effectively with each other – a life skill she will always remember and practice.
"This unique class is a must-take at Wake Forest, and will impact each student's life far more than he or she expects going into it. I know that after laughing together and crying together at times, everyone in my class would recommend this class to others."
Categories: Faculty, For Alumni, For Parents, Research, Student, Teacher-Scholar, Top Stories, Wake Forest College
Subscribe
Sign up for weekly news highlights.
Subscribe