Main Content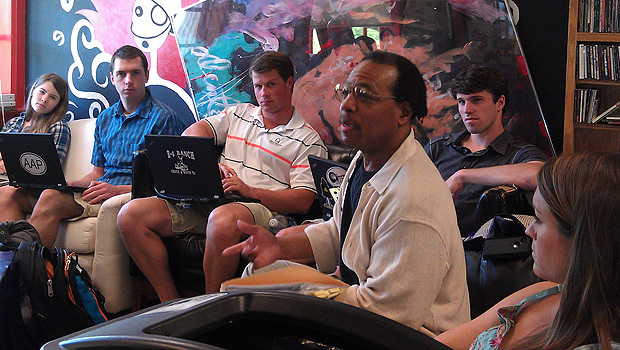 "It's opened my eyes to the way healthcare works and the kinds of decisions that doctors and patients need to make together," Cecile Vocelle ('13), a communication major said. "Turning a real case study into a play makes it feel so personal."
The students in Comm 370 spent the spring semester studying bioethics while also enhancing their communication skills by learning how to perform the material as a radio play.
"The class is interdisciplinary, a joint venture between the Wake Forest School of Medicine and the Department of Communication," said Michael Hyde, University Distinguished Professor of Communication. "We're making undergraduates aware of the kinds of bioethics decisions they may be facing in the future."
The case study the students performed involves the decision to implant a pig's heart into one of five patients – all have varying ages and socio-economic backgrounds but each has an illness that make a transplant necessary. The play makes it clear that the surgeon and an internal review board have two big decisions to make. One, should an experimental transplant of a pig's heart into a human be considered, and two, which patient should receive the lifesaving organ?
Richard Robeson, adjunct assistant professor of bioethics with the Wake Forest University Center for Bioethics, Health and Society, said combining medicine and theater makes the material come alive for students. He coined the term "dramatic arts casuistry" to describe this method of teaching bioethics.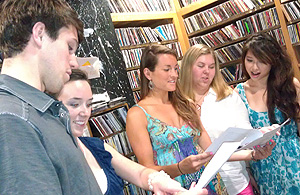 The radio play examines the relationship between the transplant surgeon and each of the patients, while also revealing the reservations members of an internal review board have about performing the operation. The students actually recorded the play with the help of communications alumnus and former WAKE Radio manager Nathan Bedsole.
"What makes it even more interesting is that the audience has to make up their minds about who should receive the transplant, or even if it should be attempted," said Hyde. "The case study and play explore all the background and walk right up to the moment a decision should be made. "
The play, Unquantifiable Risk,  will air on WAKE Radio soon, then other digital platforms after the students have all had a chance to access the recording.
Categories: Arts & Culture, Engaging in the Arts, Humanities, School of Medicine, Student, Teacher-Scholar, Top Stories, Wake Forest College, Working Together