Main Content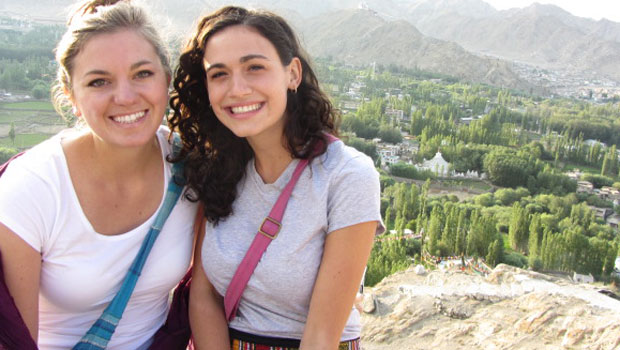 In the small town of Leh in the Ladakh region, high in the Himalayan mountains, nine undergraduate students enrolled in a summer course on culture and communication in India are working with local schools to improve students' English literacy.
Recent Wake Forest graduates Kendall Hack ('11) and Carrie Stokes ('12) developed the capstone service component of the study abroad course, which is taught by communication professor Ananda Mitra.
In the rural, isolated region where the students are working, there are major differences between the government-run public education system and expensive private schools, says Stokes.
For instance, to move on to higher education, students must pass exams that are administered in English, which many students in Leh struggle to learn.
Seeking to address this inequality, the Wake Forest students, including one woman who will officially begin her first year at the University in September, will teach English conversation courses as well as classes on cultural differences to the school children.
Hack and Stokes developed the opportunity after two trips to Leh and a combined 10 weeks in India.
Inspired to study and serve
Stokes explains that on her first trip to India in 2010, the unique, yet disadvantaged, area of Leh both "intrigued" and unsettled her.
"We met one shopkeeper in a refugee camp," says Hack. "She told us that her children would likely never leave the camp because they lacked opportunities to advance in school."
Hack and Stokes were frustrated by the educational challenges in the region, and Mitra encouraged the women to focus their efforts into a research and service project.
"He told us we could do more than complain. We could search for answers and do something," says Hack.
Hack, Stokes, and Rachel Handel ('12), who also participated in the inaugural trip, embarked on a year-long research project that culminated in their return to Leh for five weeks in the summer of 2011, during which they built relationships with instructors and administrators in the district to create the service opportunity taking place this summer.
"I just got them to India, and they did the rest," says Mitra.
Hack and Stokes hope this trip will both aid in improving educational success in the region and guarantee the future of the relationship between Wake Forest and Leh.
The group will return from their trip in mid August.
Categories: Admissions, For Alumni, For Parents, International, Student, Students Taking the Lead, Top Stories, Wake Forest College
Subscribe
Sign up for weekly news highlights.
Subscribe