Main Content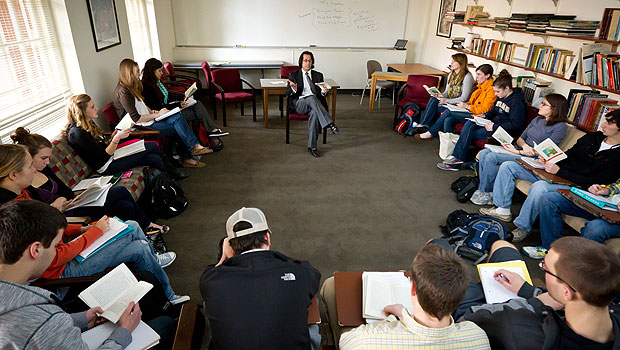 U.S. News and World Report's 2013 Best Colleges guide ranked Wake Forest University 13th among national universities with the best undergraduate teaching.  The list highlights "schools where the faculty has an unusually strong commitment to undergraduate teaching."
The 2013 guide ranked Wake Forest 27th among national universities in its overall ranking and also recognized the school for its value and the quality of its undergraduate business programs.  Wake Forest followed three schools tied for 24th – University of California-Los Angeles, University of Southern California and the University of Virginia.
"Undergraduate teaching is at the heart of Wake Forest," said Wake Forest President Nathan O. Hatch.  "With Wake Forest's teacher-scholar model, every faculty member is dedicated to excellence in both teaching and research. We appreciate being recognized for the deep faculty-student engagement and the commitment to educating the whole person that are Wake Forest's highest values."
Wake Forest had a strong showing in many categories including alumni giving rates, faculty resources and graduation rates.  The guide highlighted Wake Forest's 11 to 1 student/faculty ratio as well as small class size (57 percent of classes have fewer than 20 students) and high retention rates (94 percent of first-year students returning for sophomore year).
Wake Forest was ranked 25th in last year's edition and has been ranked in the top 30 in the national universities category since 1996.
Among national universities, Wake Forest was also ranked 33rd on a list of best value schools called "Great Schools, Great Prices."
The annual guide also ranks undergraduate business programs.  The Wake Forest Accounting program ranked in the top 5% in the nation at #16, and overall the Wake Forest Business School ranked 31st out of 455 undergraduate business schools across the country.
The U.S. News rankings are posted on www.usnews.com.  The Best Colleges 2013 guidebook will be in stores on September 18 and is available at the U.S. News Store.
Categories: 2012 Highlights: University News, For Alumni, For Parents, Recognition, Teacher-Scholar, Top Stories, Wake Forest College
Wake Forest in the News
Wake Forest regularly appears in media outlets around the world.