Main Content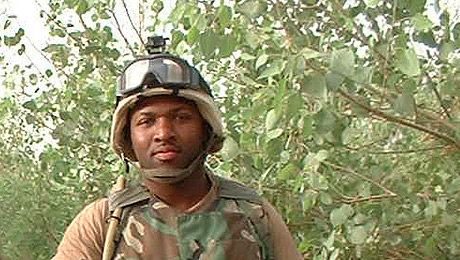 When a CH-47 Chinook helicopter was shot down in Iraq, U.S. Army Chief Warrant Officer Lionel Finley was sent to recover aircraft parts and the remains of the 20 service members killed in the incident.  Years later, as a veteran, Finley's personal struggles with post-traumatic stress disorder and the help he received from counselors inspired him to pursue a career in counseling.
"I went through PTSD and depression and was helped by counseling," said Finley, who retired after 20 years in the military. "I hope to use my experience to help other veterans."
The path toward his dream: the new online master of arts degree in counseling Wake Forest University launched this fall.
He chose Wake Forest University's online program because he needs the flexibility to balance school, work and family.  He came into the program with a clear goal, but a few weeks into his first class, he is thinking about other ways a counseling degree can be used to help people.  He is excited about the possibility of working with African-American adolescents, particularly those growing up without fathers.  "Once you learn more about the program, you get a broader view."
Finley, who lives in Raleigh, is one of 20 in the first group of students.
"We want a better world, and we need more counselors to make that happen," said Donna Henderson, the professor of counseling at Wake Forest who oversees the new online degree program.
Through its long-established, on-campus program, Wake Forest has the capacity to graduate 15 accredited counselors each year. The University turns away 10 times that many applicants.  Adding an online program increases the number of well-trained counselors prepared to address critical mental health needs.
"With the online degree option, we can more than double the number of people in the program and teach people who cannot come to campus because of jobs or other circumstances."
The on-campus and the online curriculums are identical and the acceptance criteria for both programs are exactly the same.  Both are accredited by the Southern Association of Colleges and Schools (SACS) and Council on Accreditation of Counseling and Related Educational Programs (CACREP). The major difference is the campus program is designed for full-time students only and can be completed in two years, while the online program accepts students to begin courses three times a year with semesters beginning in the fall, spring and summer. The small classes that are Wake Forest's hallmark are mirrored in the online program, so the groups will be divided into sections of 10 to 15 for their coursework.
Another counseling student who started this fall is Renee Donovan, a stay-at-home mom in Virginia with two pre-school children, who also needs the program's flexibility.  Donavan applied to the program after several years teaching first, fourth and sixth graders, because she wants to become an elementary school counselor.
"Whether bullying or other issues, I always liked helping kids with those issues," she said.
She is mastering tools like Voice Thread, used to facilitate discussions with voice and video recordings, and WebEx to connect virtually with her professors each week.
"We are reaching adult learners in ways we haven't before.  We are reaching out geographically in ways we haven't before," Henderson said.  Students have enrolled from as far away as Colorado.  She expects the reach of the program to grow as more applicants become familiar with it.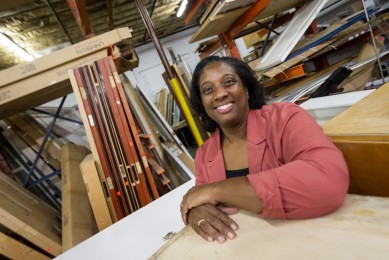 Even though she lives in Winston-Salem, Carol Ebron applied to the online counseling program instead of the on-campus program because she loves her job and wants a counseling degree to do it better.
Ebron provides support services for families in the home-ownership program at Habitat for Humanity of Forsyth County.
"Sometimes the homeowners call and they just need to talk," Ebron said. "I want to become a professional counselor and would like to extend the support program to offer counseling services that might be needed."  She has the enthusiastic support of her employer.
"We have an international reputation for the quality of our counseling program," Henderson said.  "We know we can prepare counselors well, and we are excited to have the means to extend the reach of the program to meet the needs of communities and students."
Wake Forest's counseling department also offers an online master of arts in human services degree with much of the same coursework as the counseling degree, but focused more on preparing students for administrative roles in the counseling field.
Categories: Faculty, For Alumni, For Parents, Online, Student, Top Stories
Subscribe
Sign up for weekly news highlights.
Subscribe