Main Content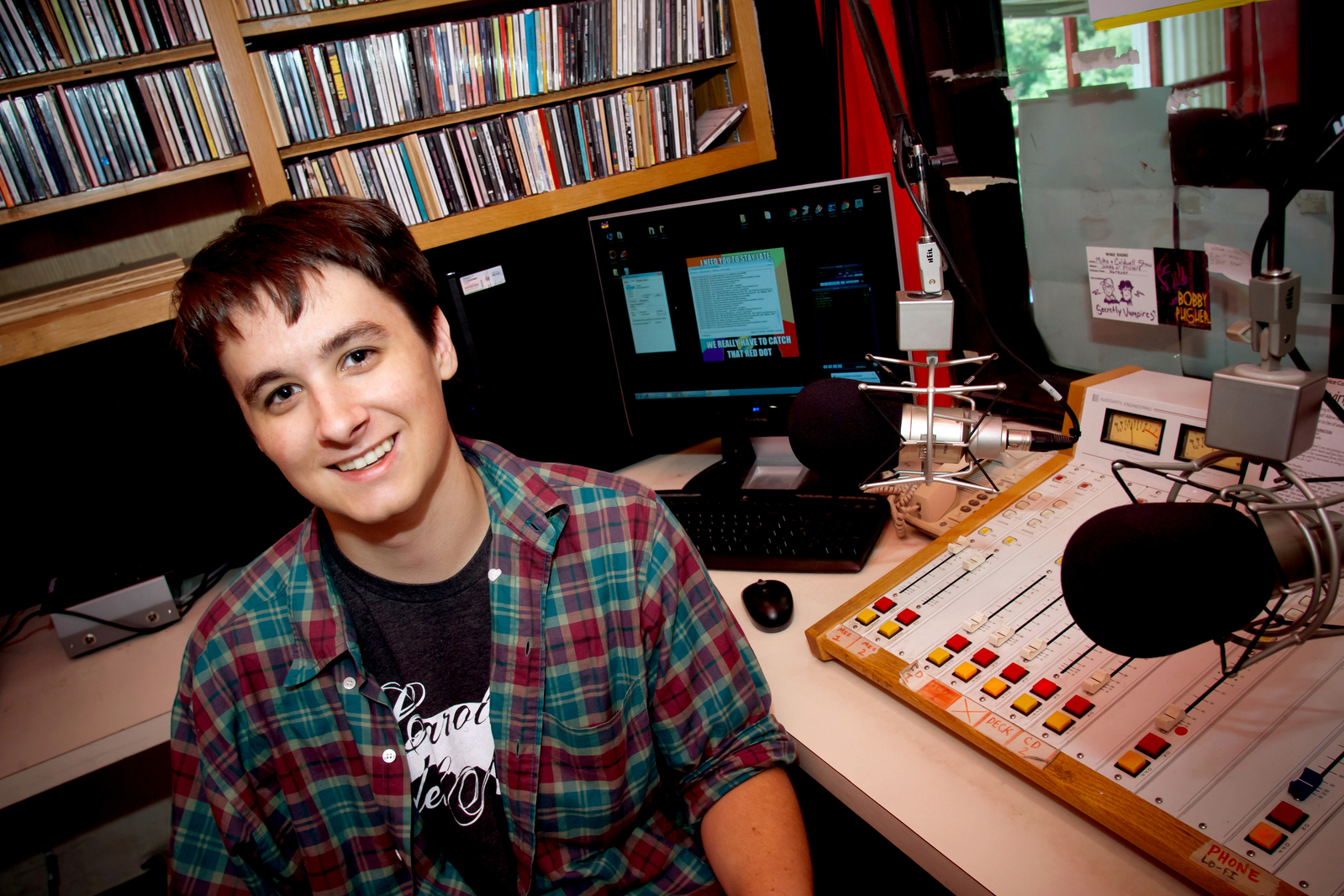 I love radio.  When I conducted my college search, I factored the presence of student-run radio on campus into my decision. That's how I found Wake Forest and Wake Radio.
When I graduate in May, I will have been a member of Wake Radio for four years, the last three on the executive staff. Knowing that my time at college needed to be filled by something other than academics, I joined first semester freshman year. What began as a small group of students with a similar interest has developed into a true community. This organization has taught me lessons as valuable as my studies. Through Wake Radio, I've learned about the power of music to entertain and create connections, developed my own teaching style as new DJs come for training each semester and stepped up to help lead as membership exploded.
As Wake Radio has grown from the 40 students I mingled with freshman year to one of the fastest-growing student organizations on campus, it has had a major impact on the Wake Forest community. On-campus concerts and performances bring hundreds of students together who wouldn't necessarily call music their primary interest. That's community.  Even though it's hidden away on the fifth floor of Benson, there's always someone in the Wake Radio lounge. Students come by to snag a comfortable couch and listen to music or discuss their on-campus lives with others. Music is something we can all agree on, but it isn't the only thing.
Occasionally, when I introduce two members of Wake Radio, they stop me mid-sentence because they've already met.  They've hung out in the lounge, or sat beside each other at a staff meeting. Even though there are 150 members, the sense of community is a true accomplishment. It's a unique feeling to know that students are connecting through music in the same way you did when you were an underclassman.
This connection reminds me of my grandfather's stories about growing up in the Golden Age of Radio.  His tales about his family gathered around an old Kenmore receiver to hear comedy like "Amos 'n' Andy" and westerns like "Roy Rogers" have strengthened my interest in the power of radio to bring people together. The visual seems somewhat kitschy, but it's remarkable the way a single medium can breed a sense of amity and goodwill, even as times and technology change.
This connection to the past is especially relevant when you consider these stream + download days. Did you know internet radio service Pandora streamed 3.9 billion hours of music last year? With such enormous numbers, music can seem less like an art form and more like a commodity controlled by charts and numbers. Working in college radio intensifies my connection to music as art since most college stations entertain with slightly more esoteric musical choices and genres  than you'd find in most markets.
Speaking of streaming, I was surprised to learn that the station operated exclusively through the internet when I got to Wake. Where was the vinyl DJs spin on TV and in movies? Where were the comically oversized reel-to-reel tapes that seemed to belong in every radio station? Instead, the entire station could be operated basically off a single iTunes playlist. The most difficult process was transitioning from a voice break to music and back again.
While I originally longed for a true broadcast experience with a tower and transmitter, I've found that using digital technology still makes it radio. The station relies on the prowess of DJs to play fresh, appropriate music and connect intimately with their audience through voice breaks – a chance to connect, share information and show a little personality. If shows on Wake Radio ran solely by computer, that familiar service that only DJs can provide would be lost. There would be no difference between a college radio station and services like Pandora.  If academics had been my only focus here at Wake, it is likely that – for reasons besides being a studious recluse – I would never have experienced first-hand the importance of human interaction in entertainment.
As a senior, I've realized that an internet/digital radio station is a strength for our campus. Alumni and students abroad homesick for a little taste of Wake can find it at radio.wfu.edu. Parents across the country from our campus tune in through different time zones. These examples illustrate the reach Wake Radio has beyond the campus bubble, and underline the size and growth we've had in recent years.
Which brings me back to the power of radio. While most people my age stick with the buzz of a cellphone alarm to get them up, I rise to the sounds of 88.5 WFDD-FM through my laptop speakers every single morning. So even this radio fan takes advantage of different technology to listen. The strictly auditory style of radio broadcast has appealed to me since before I could read the words in any book or on any television screen. That appeal has grown through my Wake Radio experience as I learn to produce and broadcast entertainment that captures the interest of students. I'm grateful for not only the opportunity to explore my long-term love for radio, but for the chance to grow and discover ways to carry this experience with me into the future.
Categories: 2012 Highlights: Student Storytellers, For Alumni, For Parents, Student, Top Stories
Subscribe
Sign up for weekly news highlights.
Subscribe