Main Content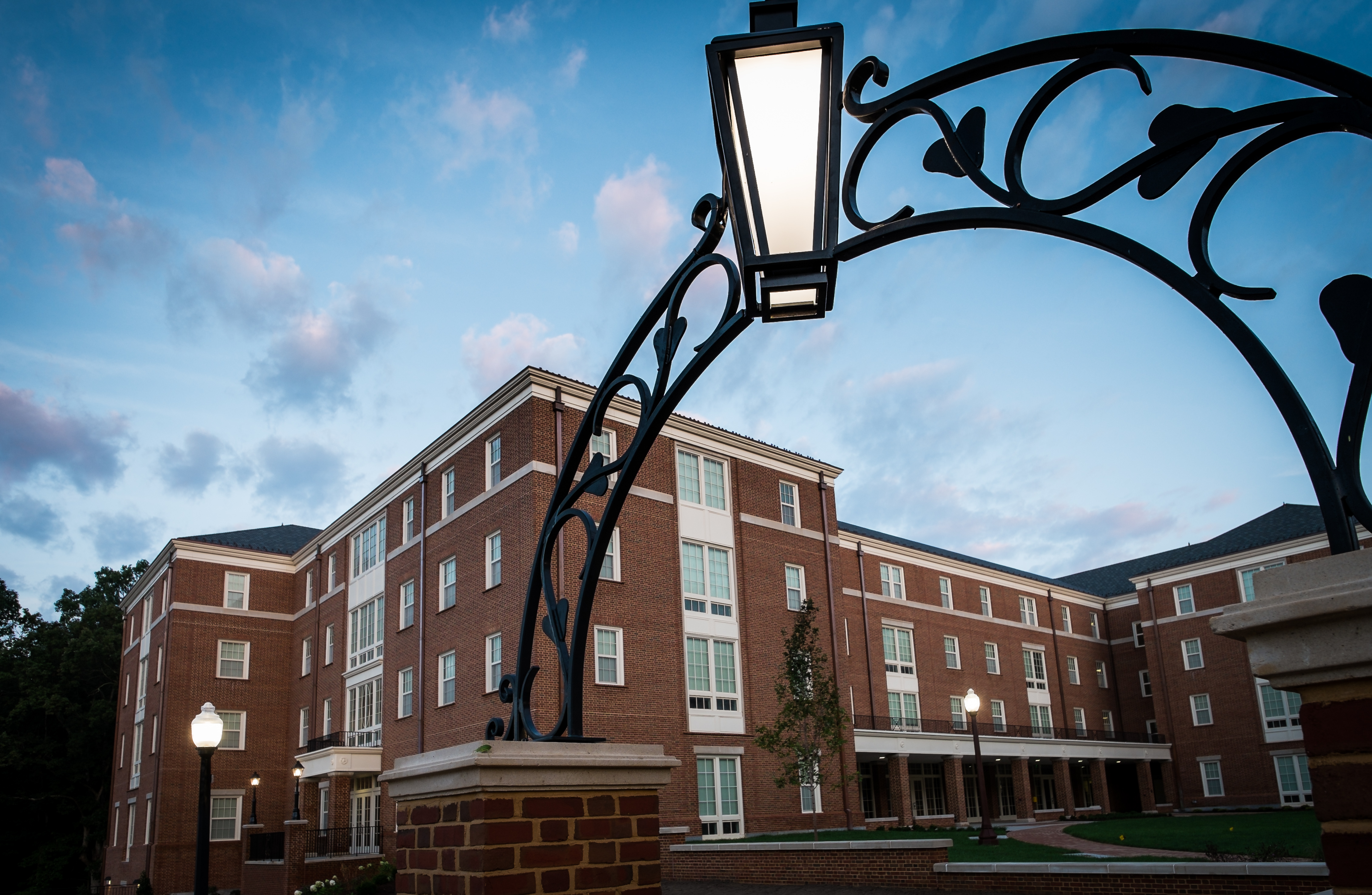 Stand in the courtyard between Wake Forest's Dogwood and Magnolia Halls and look south. The view of the iconic Wait Chapel, framed on either side by the recently completed buildings, is jaw-dropping.
The mirror image Dogwood and Magnolia are the newest residence halls on campus. The furniture is in place, the wrought iron fixtures and tiled bathrooms are sparkling clean and the touchscreen electricity and water usage monitors are ready to go. They will both open their doors to returning students Aug. 24.
The two new north campus residence halls offer a mix of suites with double and single rooms for approximately 480 upper class undergraduate students. Each suite houses four to eight students. The rooms feature everything from motion and heat activated lights to reconfigurable couches and computer chairs that can be detached from their base and placed pretty much anywhere. Both buildings were designed with input taken from student focus groups and an administrative and student committee.
"Everything about Dogwood and Magnolia was designed with the help of students," said Donna McGalliard, dean of residence life and housing. "Our goal in the design and features of the buildings was to facilitate peer interaction and help students come together as part of the Wake Forest community."
McGalliard said undergraduate input called for communal kitchens where students can convene to cook meals. Media rooms with large televisions where friends can watch a movie, host an Xbox tournament or simply enjoy each other's company are additional features. Other amenities include study spaces, both private and public, large recreation lounges for foosball or ping pong, and touch-screens that display the amount of electricity and water used throughout the buildings.
"The students can touch the screen and see how much electricity or water each floor of the building is using," McGalliard said. "It is a great way for us to host friendly competitions between floors and buildings and raise environmental awareness."
A new dining facility, scheduled to open in January 2014 will also offer a variety of service options to students, from sit-down meals to short order menus and a convenience store.
The look of the new residence halls is reminiscent of the distinctive Georgian architecture seen across campus. Or as McGalliard puts it, they both have that southern front-porch feel Wake Forest students love. And yet at the same time, Magnolia and Dogwood have a 21st-century flair that reflects Wake Forest's commitment to innovation and sustainability.
Both buildings were designed with an abundance of natural lighting that makes it hard to tell whether it's a bulb or the sun illuminating a room.
In addition, the two residence halls will be energy efficient, designed to meet Silver-level LEED (Leadership in Energy and Environmental Design) certification.
McGalliard said Magnolia and Dogwood were designed to mirror the emotional and social development of Wake Forest students.
"I've been on many other campuses, and I believe Wake Forest has created the best-designed and most intentional residential experience for students," she said.
Categories: For Alumni, For Parents, Student, Top Stories, Top Stories 2013-2014
Wake Forest in the News
Wake Forest regularly appears in media outlets around the world.