Main Content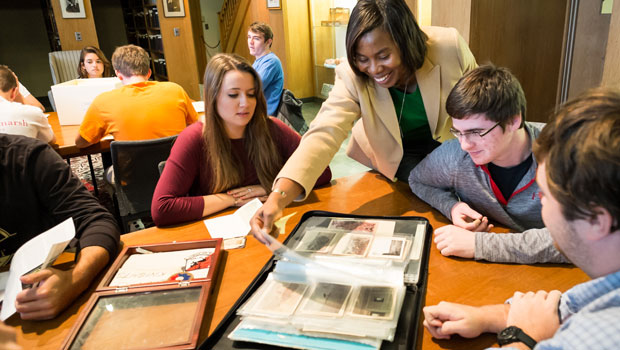 "We had no mail today, and I am very lonesome. I'll write you tomorrow and am praying that a letter comes for me."
Laurence Stallings, who served as an editor of the Old Gold and Black after entering Wake Forest College in 1912, wrote these words to his wife, Helen Purefoy Poteat — the daughter of Wake Forest's president William Louis Poteat — during World War I, almost 100 years ago.
Today, in the research room in the Z. Smith Reynolds library, English professor Sharon Raynor's students sift through acid-free folders looking at letters that soldiers sent home during the Civil War, World War I and World War II. Some students use a magnifying glass to decipher the faded, unfamiliar writing. Pulling out folders. Reading the words on paper. It's an experience unlike looking at them on a computer screen.
"Of all the letters we've looked at this semester, the handwritten Civil War letters have been my favorite," says Abby Fritzsche from Novelty, Ohio. "Most were handwritten in beautiful script; however, they were almost impossible to read. I could make out only a few words on the stained, yellowed paper. It amazes me that I was holding a letter that a soldier mailed back home to his family so many years ago."
"It's important that students get to see and hold a part of history. It allows them to connect to the emotion and the intimacy of letter writing and brings them a bit closer to war," says Raynor.
Tanya Zanish-Belcher, archivist and director of Special Collections says people have a perception that those who lived in the past were different from us. "But by touching something that another person wrote, you understand that we are part of the continuum of history, and that people from the past felt fear and love and loneliness."
The students in the first-year writing class are only five or six years older than their professor was when she found her dad's diary from the Vietnam War.
"I read my dad's journal when I was about 13. In reading those personal thoughts in my dad's own handwriting, I wondered what compelled him to keep a diary during a war," says Raynor. "He seemed so young, and keeping a diary seemed so out of character for a soldier."
As a child, Raynor used her father's diary and photos for school projects — sharing them with anyone who was interested. As a teacher, she continues to research how soldiers use writing as a lifeline.
The Vietnam War: A Personal Connection
"In years, my students are far removed from the Vietnam War. But in life experience, they are the same age as many of the men who were drafted into service. They try to put themselves in the soldiers' places, and they learn how every aspect of war changes lives. It's an important lesson. As a culture, we are over-exposed and somewhat immune to the violence and trauma of the wars that are all around us today."
In 1999, Raynor started the "Breaking the Silence" oral history project — developing friendships with the Vietnam veterans who have been visiting her students every year for eight years.
In class, Raynor and her students talk about letters and their significance both during and after a war. Letters become a space that both haunts and heals, she says, particularly in the midst of loss, chaos and confusion.
"In much the same way reading my dad's diary transformed the way I thought about him and the war, reading letters from soldiers opens my students eyes and hearts to better understand the effects of war and how life changes forever for the soldier and his or her family."
Writing Home
The first year of college is a time of change and sometimes confusion and chaos as well. Young adults leave home for what will be one of the most transforming experiences of their lives. So Raynor has her students write a letter home.
"This was a memorable experience," says Sam Bell from Basking Ridge, N.J. "I've always wanted to write my parents, knowing that they would love to receive a handwritten letter. Their reaction was wonderful. They thanked me and gave me a response that made my day. Writing a handwritten letter truly puts you in a good mood, and receiving one is even better."
Categories: Humanities, Humanities Highlights 2013-2014, Student, Teacher-Scholar, Top Stories, Wake Forest College
Subscribe
Sign up for weekly news highlights.
Subscribe