Main Content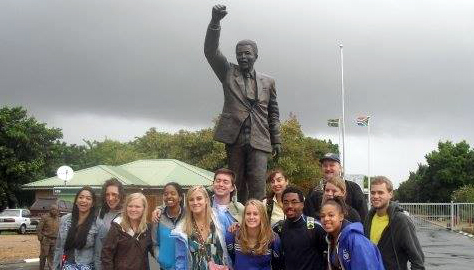 Nelson Mandela led South Africa from apartheid to democracy. An icon of freedom who embodied the spirit of Pro Humanitate, he advocated for human rights and faced challenges ranging from AIDS to political persecution while avoiding a civil war.
Today Wake Forest students, alumni, faculty and staff remember the legacy of Mandela, who died December 5 at the age of 95, and reflect upon his influence on their own lives.
Mission of Good Hope

Barbee Oakes, assistant provost for diversity and inclusion, led 11 students from Wake Forest and Winston-Salem State University on a two-week service trip to South Africa in 2008. She said the group of students, comprised of different racial and economic backgrounds, left the United States as strangers and returned home a family.
The work and service on the trip showcased the students' talents and commitment to Pro Humanitate, so much so that Oakes and the students decided to name the service trip the "Mission of Good Hope," a moniker that has stayed with the Volunteer Service Corps initiative ever since.
Oakes considered the group's visit to Mandela's jail cell on Robben Island, where he was imprisoned for 18 of his 27 years behind bars, as one of the most poignant and moving experiences in her life.
"Standing at the door there, even though you know his story, when you're physically there, there is just this reverential feeling that overcomes you," said Oakes. "I was just overcome with sadness but also triumph, it was obvious that we were witnessing humanity in action."
Instead of being angry and bitter over the oppression, Mandela had the desire to build inclusion in a nation. If he could live in those conditions and be released with a desire to build a nation, then we have no excuse to not do more to build bridges with others, Oakes explained.
Learning to hope through healing
Meredith Storm, a senior politics and international affairs major, grew up dreaming of travels to Africa. When the time came for study abroad in the fall of 2012, South Africa was the obvious choice.
It was both a humbling and healing experience, she explained.
"During my time living and studying in Cape Town, I was able to see firsthand both the vitality of the human spirit and the scars that remain from apartheid. But what is truly remarkable is that that's what they are, thanks to Mandela – scars," said Storm. "Scars may be unsightly, but they are also a reminder of past struggle and of the ability to heal."
Cali Faulkner is also a senior politics and international affairs major who studied abroad in South Africa at the same time as Storm. Living there for nearly five months, she was in awe of the impact that Mandela had made on everyone she met.
"When you meet people who have grown up in South Africa, you realize everyone knows who Nelson Mandela is – he is a part of the family – whether they're white, black, rich or poor," said Faulkner. "You can't think about people coexisting in South Africa without thinking about Nelson Mandela… He was their George Washington."
Always think about forgiveness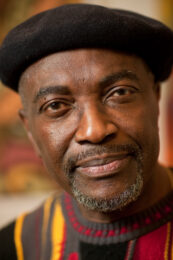 "He knew when to say put down your guns – it is a time for peace," said Yomi Durotoye, senior lecturer in politics and international affairs whose research focuses on military regimes and democratization and opposition politics in Africa.
"If not for his authority and his conviction, South Africa would have experienced unspeakable bloodshed. None of us thought this issue would be resolved without a river of blood in the streets of Johannesburg and Cape Town."
Durotoye, who grew up in Nigeria, teaches African politics and coordinates the African Studies minor program. Remembering his time as a graduate student in the 1970s, he said Mandela had already become the embodiment of the anti-Apartheid struggle. But, "Mandela's goal in politics was not political office, it was to build a multicultural society, a democratic society."
The life lessons for Durotoye: "Don't do anything dictated by anger. Keep your eyes on the goal and be faithful to that goal." And, he said, "There are no permanent enemies. We should always think about forgiveness."
For a greater good

In Wake Foresters past and present, Mandela's spirit lives on as they remember the impact they saw first-hand that one man made on a country and on them.
Summer Lott ('08), who attended the service trip with Oakes just days after her Wake Forest graduation, said the "Mission of Good Hope" was the catalyst for her decision to dedicate her career to serving others. Today she is Director of Marketing and Business Development for Directions for Living, a not-for-profit social services agency in the Tampa Bay, Fla., area.
"In a very direct way, the emotions I felt after experiencing Mandela's words and influence are why no other job felt completely fulfilling to me until I landed in a service position," said Lott. "The idea that someone could sacrifice all he had – his freedom, his family, his future – for a greater good inspired me to be an active part of a solution in my own community, which in my case is through improving the resources available to those who have survived trauma and abuse.
"Nelson Mandela's legacy will live on through the millions and millions of people he inspired worldwide throughout his life, and he will be missed dearly."
Categories: Alumni, Faculty, International, Pro Humanitate, Staff, Student, Teacher-Scholar, Top Stories
Subscribe
Sign up for weekly news highlights.
Subscribe