Main Content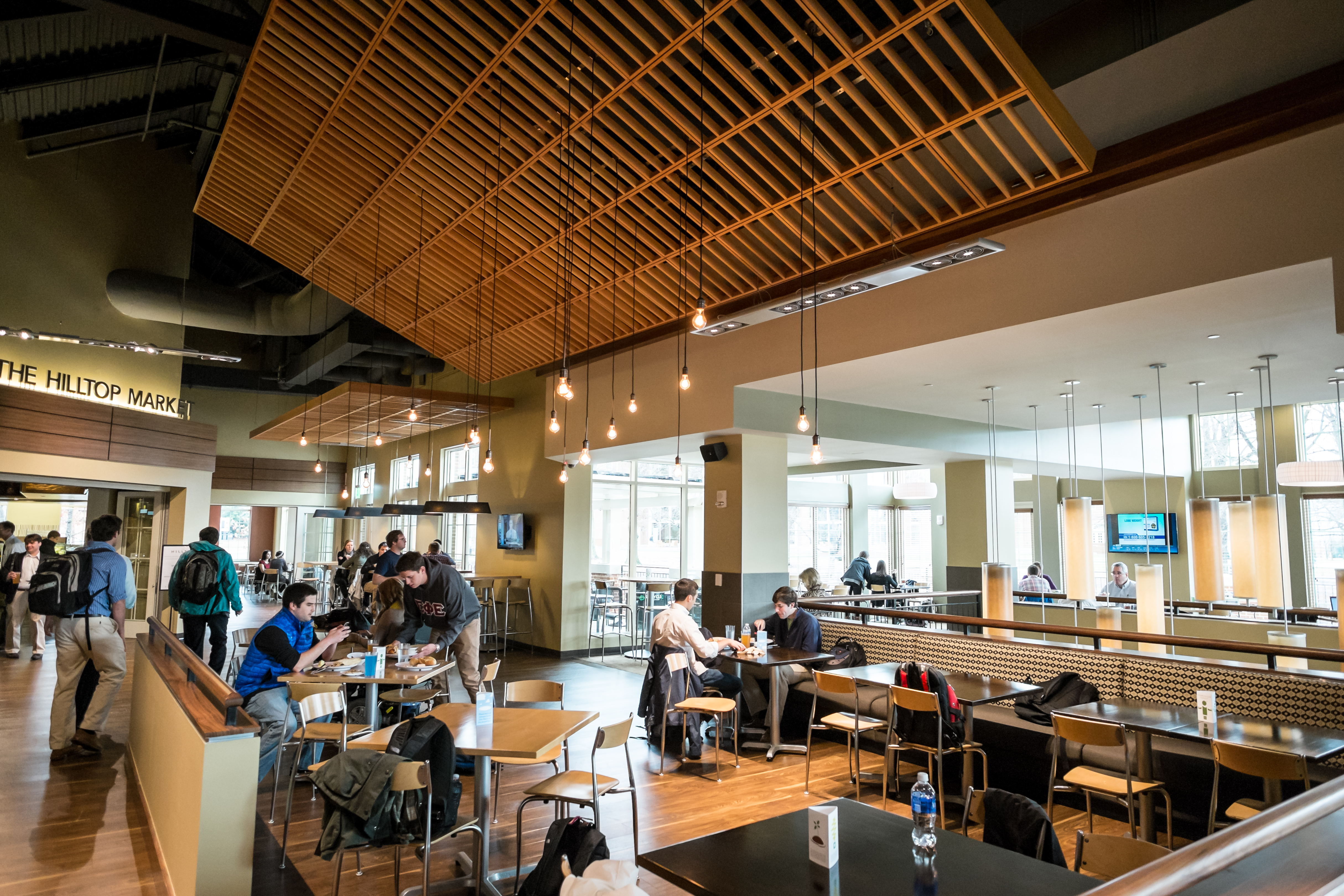 For coffee, lunch, dinner or a late-night study session, North Dining Hall is the newest gathering place on campus. The two-story, 21,000 square-foot dining facility opened this week.
Filled with natural light and sustainable features, the space is home to a Starbucks, a convenience store, an a la carte cafe and a fine dining restaurant. Next door to Magnolia Residence Hall, the building will be a community hub for the north side of campus.
"This new facility offers the best of what students desire in their food options as well as an innovative and fresh approach to dining," said Student Government President Jacqueline Sutherland. "The facility's late night and flexible hours, its expansive outside seating and its comprehensive menu accommodates the diverse needs of students to eat, study and hang out with their friends."
To create a place students could access 24/7, the food service area is separate from the seating areas. During peak hours, the building has indoor seating for 300 people. On warm days, students can also enjoy outdoor seating on balconies and terraces. Low walls provide additional seating near the entrance and in the garden area beside the Dining Hall.
On the upper level, the vaulted ceiling rises more than 20-feet and tall windows overlook campus. The Hilltop Market features a rotating menu and offers a grille, a deli, salads and a sauté station. A wall-sized image of Wait Chapel welcomes visitors to the new Bistro '34, a restaurant offering more formal dining for lunch and dinner. With a menu highlighting American favorites and regional cuisine, the space has seating for 60 with additional tables and chairs on an outdoor patio. On the lower level, Starbucks offers coffee and bakery items, while the P.O.D. (Provisions on Demand) Market stocks convenience store items.
Campus photographs and historical Wake Forest images decorate the common spaces.
Student Input
"Most of what you see in the North Dining Hall today is what students suggested," said Taylor Anne Adams, a Wake Forest senior who serves on the University's Dining Commission. "They wanted a nice restaurant that was more upscale than Shorty's but inviting enough for students; they wanted old photos of Wake Forest and its history; they wanted seating that was open 24/7, outdoor seating, and plenty of natural light."
Student input influenced many decisions regarding the building's design, said John Wise, associate vice president of hospitality and auxiliary services. "Instead of looking to other schools as a model for the new North Dining Hall, we listened to feedback from students about local establishments they liked."
For example, the design includes smaller, more intimate seating groups, instead of large tables. Sofas and upholstered chairs provide places for students to relax and study.
Sustainable Design
In order to reduce the energy needed for lighting, the building is designed with large windows and skylights to maximize natural light.
A laminated glass solar panel system is expected to generate up to 10kW (about half the power needed to light the building), while also providing shade for the outdoor dining area.
Like many other buildings on campus, the new dining facility has a building dashboard system, which provides a touchscreen display to educate visitors about the building's energy and water usage.
Behind the scenes, a pulper/extractor turns organic waste into compostable material. The system will help achieve the goal of reducing the building's waste stream to nearly zero. Biodegradable containers and food are hydrated and then chopped into little pieces by the pulper. Then the mix is piped into an extractor, which squeezes the water out of it. The resulting material can be used as compost. Larger cardboard boxes will be bailed for recycling.
"Our hope is to have a dumpster out back that we never use," Wise said.
Other environmentally-friendly features include: recycling stations, dual flush toilets, low-flow faucets, benches made of reclaimed wood from the site, low VOC carpet and paint, energy-efficient cooking appliances, a built-in waste oil recovery system and an innovative HVAC system expected to be at least 12% more efficient than a standard system.
For more details on campus food venues and menus, visit Dining Services.
Categories: 2014 Highlights, Community, Student, Sustainability, Top Stories, Top Stories 2013-2014
Wake Forest in the News
Wake Forest regularly appears in media outlets around the world.