Main Content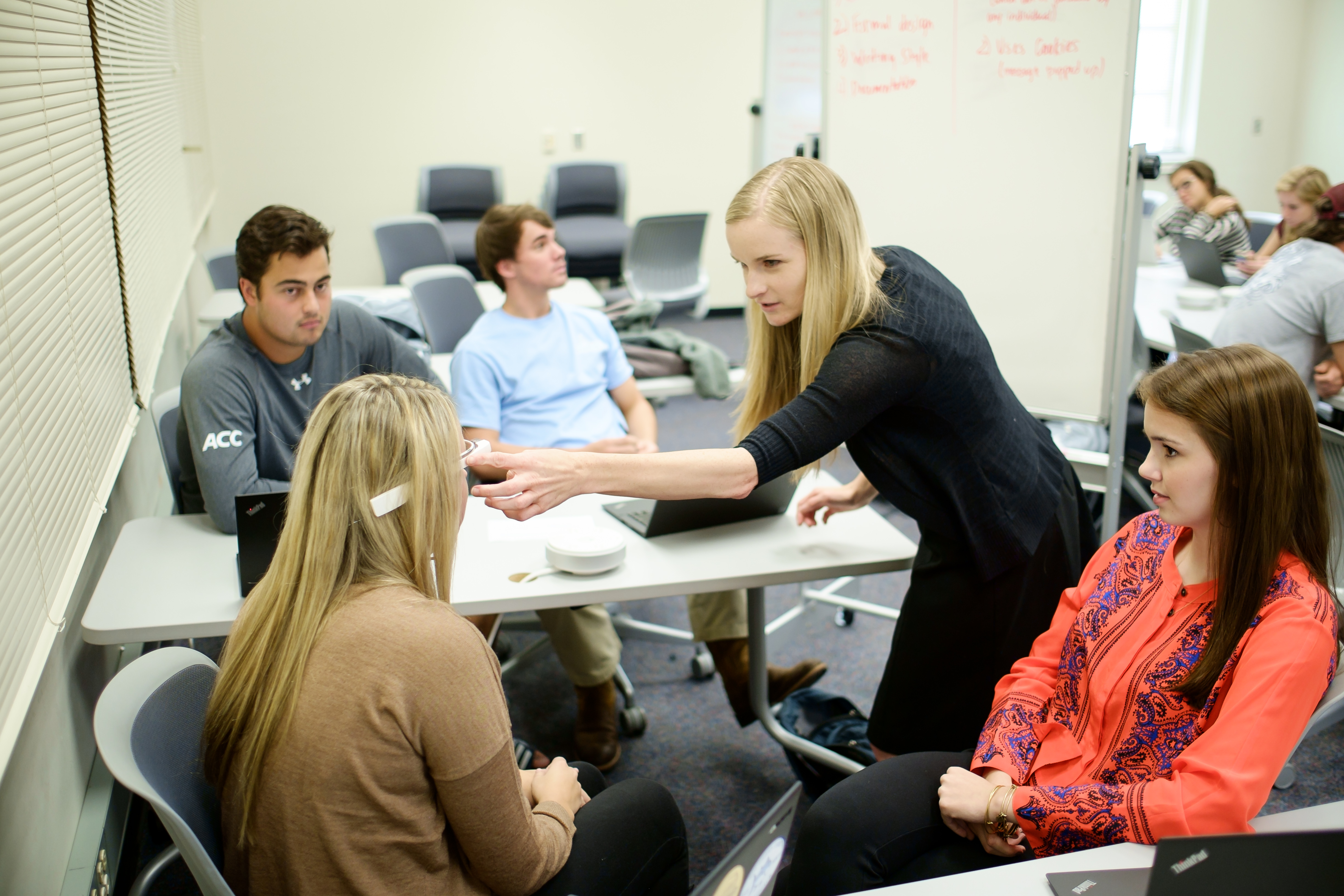 In a class called Accessing Information in the 21st Century, instruction librarian Amanda Foster is using a new technology tool to do just that.
It's Google Glass or just Glass, as the techno giant likes to call it. While it's been widely covered in the media, chances are most people have yet to see it first hand. Foster is interested in examining the possibilities of how Glass or related technologies could be used in the future, particularly in the educational setting for teaching, learning and research.
Glass is a type of wearable computer headset, similar to a pair of sleek glasses and displays information on a mini screen in the upper right corner of the wearer's field of vision. Wearers can communicate with Glass via voice commands to search the Internet, take pictures and video, play games and more.
"We are very curious to see how it's going to work in the classroom. We don't know yet how it's going to impact education, and we don't know if it's even a good thing or what kind of contributions it can make," said Foster, whose class is designed to teach students how to conduct research in the library. "It's kind of an interesting case study in and of itself. But librarians are also really interested in informational literacy – how we access information in the 21st century and what the future of that is going to look like."
The idea for Foster's class is to have students use Glass as a catalyst to research, discuss, explore and reflect on information-related themes, such as privacy, social responsibility and the future implications of technologies in medicine, business, education and gaming.
"Google Glass brings about a lot of interesting questions related to privacy and our social interactions with other people," she said.
Foster got the green light and funds to experiment with Google Glass from Lynn Sutton, vice provost and ZSR Library dean.
So she jumped in, bought the device and taught herself how to use it.
"It was definitely a trial and error process and that's what the classroom experience was like at first, too," she said.
Foster purchased one device because of the expense and had to come up with creative ways for a class of 15 to 20 students to use it. She planned projects for them to work together in small groups of four. They conducted scavenger hunts in the library, taking pictures with Glass to prove their success and used the video function to make tutorials on how to use library databases. Another project had them conduct research on a topic specific to Glass such as privacy and related laws and social interactions.
One of the most enjoyable assignments was performing skits about the do's and don'ts of using Google Glass – demonstrating what is appropriate behavior in public when you're wearing the device, Foster said. "The students are really interested in the social aspect of it, of wearing this thing on your face and how that might enhance or impede social interactions. That is something we've been able to explore."
A student's perspective
Freshman Chris Schafer said he took every opportunity to wear Glass that he could because he wanted to test its capabilities.
"I absolutely loved Glass, mainly because it's so new and rare to the market," he said, adding that he would likely purchase his own device if the price came down.
Schafer was even able to show Foster something new about Glass. "I was able to discover the wink feature for taking a picture that Ms. Foster could not even figure out," he said, "so I had the Glass programmed to my wink only, and as long as I winked hard enough, a picture would be taken."
So far, Foster is the only instructor on campus trying Google Glass though she is aware of university professors elsewhere who are using it and blogging about it.
"ZSR is known across campus as well as in the academic library community for encouraging innovation and taking risks," said Sutton. "I was happy to support Amanda with her creative proposal.  Where better to investigate the intersection of technology and privacy than a library classroom with Wake Forest students?"
Foster said the most successful aspect of using Glass in class is how students were really engaged with the content.  "While there's room for improvement, I think it has potential to be really successful in higher education," she said. "It's been a wonderful way to bring about discussion on these interesting information-related issues that are at the heart of how we access information and what the future of that is going to look like."
Categories: Faculty, Top Stories
Subscribe
Sign up for weekly news highlights.
Subscribe