Main Content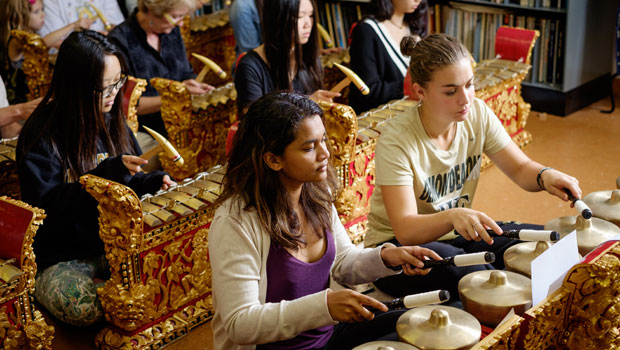 There's a new percussion ensemble in Winston-Salem, N.C., playing the gamelan — a collection of instruments that very few have seen or heard.
Thanks to music professor and expert gamelan player Elizabeth Clendinning, Wake Forest is the owner of a rare, custom designed, hand-carved, hand-painted gamelan commissioned by the University and made in Bali – the most famous of Indonesia's 17,000 islands.
Wake Forest owns two types of gamelan, together consisting of approximately 45 instruments including gongs, keyed percussion instruments, drums and flutes. About 20-25 people can play at once. Both gamelan are portable and can be moved to accommodate indoor or outdoor concerts.
"Wake Forest's gamelan is an orchestra of instruments in one," says Clendinning, an expert in world music with a focus on gamelan communities in Bali. "An important part of playing the gamelan is the spirit of the ensemble – a community of people offering their music as a form of celebration."
On Oct. 29 at 7:30 p.m. in Brendle Recital Hall, an ensemble of Wake Forest students and Piedmont Triad community members will give a gamelan concert. The ensemble is half students and half community members – 18 musicians in all. Players will be dressed in authentic Balinese costumes, and the performance will also include voices from the Wake Forest University Concert Choir, as well as a guest musician and a guest dancer from Bali.
After the concert, members of the community will be invited to see the gamelan up close.
Wake Forest's gamelan ensemble is accepting new members in January. The first practice is scheduled for Jan. 12. Contact Elizabeth Clendinning at clendiea@nullwfu.edu for more information.
Read more about Elizabeth Clendinning and the gamelan ensemble in the Old Gold & Black story, "Balinese instrument comes to university."
Categories: Arts & Culture, Community, Faculty, Student, Top Stories
Subscribe
Sign up for weekly news highlights.
Subscribe