Main Content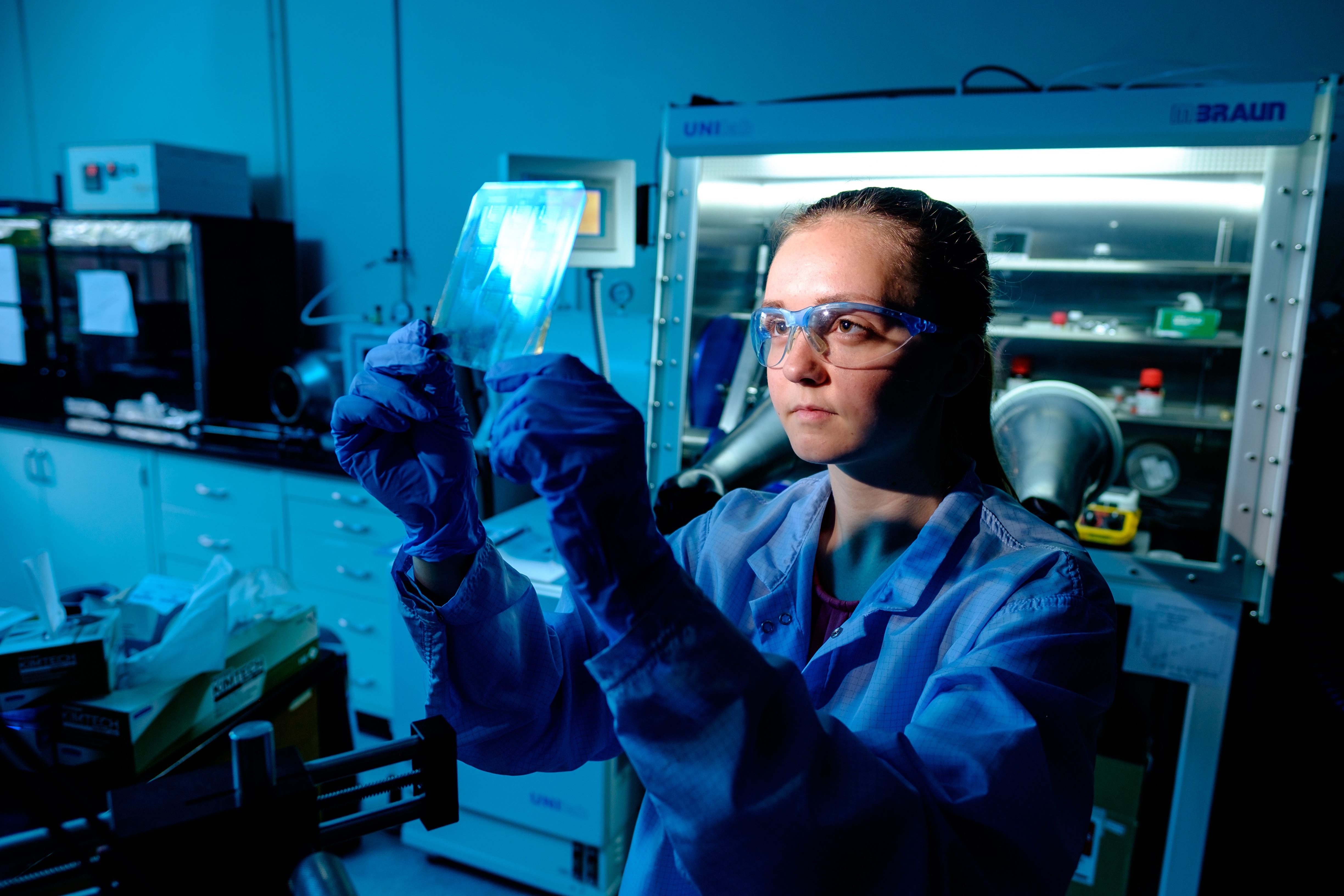 Angela Harper, a junior physics major from Downingtown, Pa., was recently selected as one of 252 students from around the country to earn a Goldwater Scholarship for the 2016-2017 academic year. Peter Diemer, a graduate physics student, was recently awarded a Gold award from the Materials Research Society (MRS) at its spring conference for significant achievement in materials research. Both work in physics professor Oana Jurchescu's research lab.
The Goldwater Scholar
Harper was selected as a Goldwater Scholar on the basis of academic merit from a field of 1,150 mathematics, science, and engineering students who were nominated by the institutional representatives of 415 colleges and universities nationwide. The Goldwater Scholarship is the premier undergraduate award of its type in these fields.
The scholarship will cover the cost of tuition, fees, books, and room and board up to a maximum of $7,500 per year.
Harper intends to pursue a doctorate in physics. "The work I plan to do during my Ph.D. will combine my computational skills with my knowledge from experimental research, in a way that I hope will further the field of solid state physics," she said.
At Wake Forest, she has done computational biophysics research and experimental work on organic electronics with physics faculty. She has presented her research at the Protein Society Conference in Barcelona, Spain and participated in other academic conferences. This summer, she will work on computational models of solar cells at Cornell University.
Oana Jurchescu, professor of physics, and Jacquelyn Fetrow, (who previously served as Reynolds Professor of Computational Biophysics) mentored Harper.
"They have helped shape my physics experience over the past three years," Harper said. "Dr. Jurchescu has helped me to search for graduate programs and fields of study that best suit my interests.  She opened my eyes to the field of organic materials, which really paved the way for my interests in graduate school."
Harper is an "exceptional student" said Jurchescu. "She took my electronics class last spring and joined my research group immediately after that. It took me very little time to realize that she would be a great candidate for the Goldwater Scholarship. She has the skills, drive, maturity and perseverance to be successful in a STEM career, and I have no doubt that we will hear great things about her in the future."
Harper is also a Stamps Leadership Scholar at Wake Forest. The Stamps Leadership Scholar Award program supports exceptional students with promise and vision, who exemplify leadership, perseverance, scholarship, service and innovation.
Sophomore Elizabeth Sarkel, a biology major from Hilliard, Ohio, was awarded Honorable Mention. A complete list of winners is available at https://goldwater.scholarsapply.org/sch-2016.php
The Materials Research Society Gold Award Winner

Diemer, a graduate physics student, was recently awarded a Gold award from the Materials Research Society (MSR) at its spring conference for significant achievement in materials research.
Diemer, who also works in the lab of associate professor Oana Jurchescu, developed two novel methods of fabricating high-performance organic field-effect transistors: one for improving the quality of solution-deposited
semiconductors through applying vibrations during film crystallization, the other for an environmentally friendly, dry deposition using commercially available laser printers.
"These technologies give new avenues to bring organic semiconductor-based devices to market while using low-cost techniques," Diemer said. "Organic-based semiconductors provide a path towards flexible electronic devices that are not possible with silicon-based fabrication methods."
Jurchescu said Diemer's presentation was one of seven chosen for the Gold award from several thousand entered and it's the first Gold award from MSR earned by a Wake Forest researcher.
"This is one of the most prestigious awards for graduate students because it is very selective and it is given for the entire graduate career. Peter competed with students from the best universities in the world for this recognition. Being able to bring home this award is proof of the quality of research performed at Wake Forest," she said.
Diemer plans to continue at Wake Forest as a post doctoral physics student.
Fellow Gold award winners represented Massachusetts Institute of Technology, Centre National de la Recherche Scientifique, The University of Queensland, University of Nebraska-Lincoln, University of Illinois at Urbana-Champaign
and Pennsylvania State University.
The Materials Research Society is made up of more than 16,000 materials researchers from academia, industry and government worldwide and promotes communication for the advancement of interdisciplinary materials research and technology to improve the quality of life.
Categories: Mentoring, Recognition, Research, Staff, Student, Top Stories
Wake Forest in the News
Wake Forest regularly appears in media outlets around the world.