Main Content
Highlights
As a private institution, WFU is not subject to the provisions of HB2.
WFU's non-discrimination statement includes protection for gender identity and sexual orientation.
WFU underscores its inclusive values and support for the LGBTQ community in myriad ways.
"I can assure you that Wake Forest University's commitment to building an inclusive and equitable community is unwavering."
This affirming statement from Wake Forest's Chief Diversity Officer Barbee Oakes has provided a supportive refrain for LGBTQ students, faculty, staff and visitors since Gov. Pat McCrory signed House Bill 2 into law on March 23.
Recently, Oakes underscored this message before hundreds attending a panel discussion called "Beyond Bathrooms." The LGBTQ Center, Division of Campus Life, and Office of Diversity and Inclusion sponsored and organized the event on April 18 to help students, faculty and staff learn more about the impact of HB2 – on and off campus – as well as opportunities for civic engagement.
Angela Mazaris, founding director of Wake Forest's LGBTQ Center, facilitated a wide-ranging and thoughtful conversation among panelists Dani Benitez, student activist; Richard Caban-Cubero, student activist; Katy Harriger, professor of politics and international affairs; Derek Hicks, assistant professor in the School of Divinity; Tanya Jachimiak, Title IX coordinator; Marianne Magjuka, director of democratic engagement and justice programs in the Pro Humanitate Institute; and Penny Rue, vice president for campus life. An archived webcast of the event is available here.
"The argument is that this is a common sense bill. It's not common sense at all. It's not common sense to disenfranchise any group of people in the United States, which is the freest country in the world. The democratic process includes dissent, but when it comes to the protection of people, we really have to protect as many as we can," said Caban-Cubero, a junior double-majoring in politics and international affairs and religion.
Taking a stand
"Beyond Bathrooms" is just one way the campus community continues to show support for the LGBTQ community and demonstrate Wake Forest's commitment to inclusivity and diversity for everyone.
The LGBTQ Center, along with an army of allies and advocates, has organized numerous campus events, mobilized scores of activist students and served on the front lines of equality in the face of adversity. Immediately following the bill's passage, the Center hosted a moment of solidarity on the steps of Wait Chapel to take a stand against the discriminatory legislation. Since then, students and staff have arranged transportation so interested parties can attend rallies, City Council meetings and other events off-campus.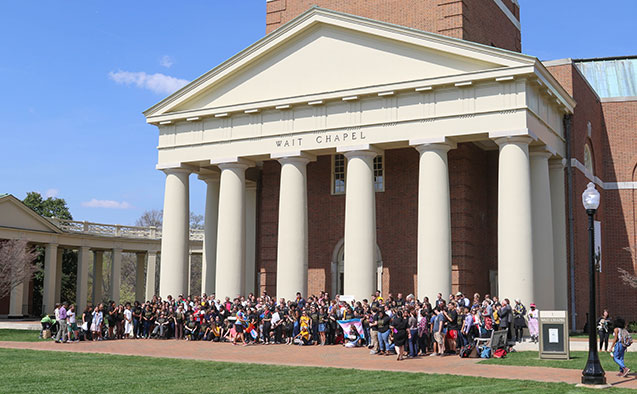 Wake Forest quickly issued the following statement regarding HB2:
"Wake Forest University's commitment to diversity and inclusion remains unwavering and our non-discrimination statement includes protection for gender identity and sexual orientation. The new law does not apply to private institutions and will not impact Wake Forest's employment practices, educational programs or campus activities in any way. Wake Forest underscores its commitment to creating an inclusive environment for all members of the University community as well as visitors to our campus."
At their first meeting since the resolution passed, College faculty also adopted a resolution against the law urging the North Carolina General Assembly and the Governor to repeal House Bill 2. The Faculty Senate passed a similar resolution.
President Nathan Hatch also voiced his opinion in a message to the campus community. "The divisive nature of HB2 is in sharp contrast with the inclusive values of Wake Forest. For this, among other reasons, I wish to make clear my opposition to it."
Ongoing support for advocacy and allies
Today Wake Forest has a more diverse student body than ever, and ensuring everyone feels safe, valued and respected is a top priority. Current efforts are building on decades of work by students, faculty and administrators to continually support programs, enact policies and create educational opportunities that contribute to a positive campus climate.
Wake Forest established the LGBTQ Center in 2011 to provide support and advocacy to Wake Forest University's lesbian, gay, bisexual, transgender, queer and questioning students, faculty and staff, and education to the entire campus community about issues of gender identity and sexual orientation. Examples include:
Wake Forest offers Safe Zone training programs designed to educate faculty, staff, and students about the LGBTQ community and how to recognize and work against anti-LGBTQ bias and prejudice. Since 2012, nearly 1,000 members of the campus community have completed the training.
The University is committed to designating and maintaining a gender-inclusive restroom in as many of its buildings as reasonably feasible. A directory of all-gender restrooms in administrative and classroom buildings is available online. Many residence halls also offer private, lockable bathrooms.
Wake Forest will offer gender-neutral housing for the 2016-2017 academic year.
The University is increasing the size and visibility of the LGBTQ Center to better serve the Wake Forest community. The expansion includes larger lounge spaces for students, faculty and staff to gather for center programs and additional office space for staff members.
Each spring, the University celebrates Wake Forest's LGBTQ and ally graduates with Lavender Graduation honoring LGBTQ students and allies who have contributed to the rich diversity of our campus community.
"Rising Voices: A Wake Forest LGBTQIA Alumni Conference" brought together students, faculty, staff, and alumni to discuss current work in LGBTQ scholarship, arts, and public policy, provide mentorship to students, and create an oral history documentary project in 2015.
The LGBTQ Center hosts a Coffee Hour every Thursday during the academic year for LGBTQ students and allies.
For more than 15 years, Wake Forest has offered same-sex domestic partner benefits to faculty and staff. In June 2013, the University introduced a new benefit to create parity for all faculty and staff by providing participants who have same-sex domestic partners with compensation to offset the additional amount they pay for benefits due to IRS regulations. The employee insurance plan also covers transition-related medical care.
Categories: Alumni, Campus Life, Community, Events, Faculty, Staff, Student, Top Stories