Main Content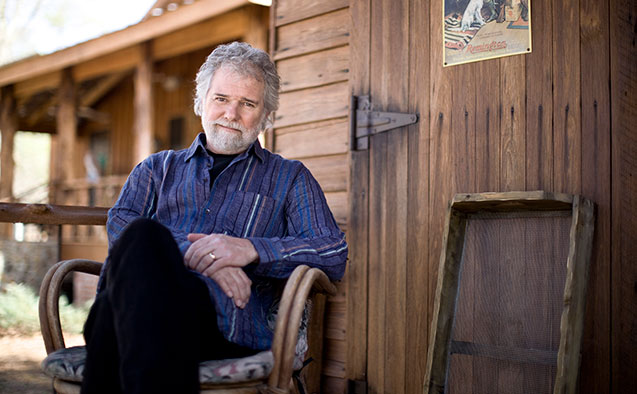 Highlights
Two-day visit filled with music, education and tree planting.
Evening of songs and stories on Nov. 10 in Brendle Recital Hall, 5:30 p.m. – 7 p.m. Free and open to the public.
Nov. 11 solo concert at The Barn at Reynolda Village. Tickets available.
Rolling Stones' long-time keyboardist Chuck Leavell, who has also become a leading conservationist, will visit Wake Forest University Nov. 10 and 11 for a two-day event filled with music, education and a tree planting.
The legendary musician arrives on campus Thursday, Nov. 10 for a 2:30 p.m. tree planting with members of the Office of Sustainability and the Center for Energy, Environment and Sustainability (CEES), which are sponsoring his visit in conjunction with the "More Barn" series in the historic Reynolda Village.
Later that day, an evening of songs and stories with Leavell and Miles Silman, biology professor and CEES director, will take place in Brendle Recital Hall from 5:30 p.m. – 7 p.m. The event is free and open to the public.
The celebration of environmental stewardship and land conservation continues on Friday, Nov. 11 with a solo concert at The Barn at Reynolda Village. Doors will open at 7 p.m. and the solo concert begins at 8 p.m. Tickets are $25 in advance and $30 at the door. Seating is primarily general admission with limited reserved table seating.
Leavell toured with the Rolling Stones for more than 25 years and is one of the most respected keyboardists in the world of rock' n' roll. His piano and keyboard work has also been heard on the works of Eric Clapton, John Mayer, The Black Crowes, George Harrison, The Allman Brothers Band, and many more.
A conservationist, sustainable development advocate, and tech entrepreneur, in 2009 Leavell co-founded The Mother Nature Network, a website devoted to environmental news, information and education. He is the author of four books: "Forever Green: The History and Hope of the American Forest," an autobiography "Between Rock and a Home Place," "The Tree Farmer," a children's book, and his most recent, "Growing A Better America."
He and his wife, Rose Lane Leavell, live on their 3,000-acre award-winning tree farm, Charlane Plantation, near Macon, Ga. Twice named Outstanding Tree Farmer for Georgia, and National Outstanding Tree Farmer in l999, he has also been recognized by the National Arbor Day Foundation, the Georgia Conservancy, and many other conservation organizations. His name is well known on Capitol Hill for his advocacy work on behalf of the environment.
Categories: Arts & Culture, Speakers, Staff, Sustainability
Subscribe
Sign up for weekly news highlights.
Subscribe