Main Content
The National Science Foundation recently awarded a $680,000 grant to Wake Forest University Associate Professor of Chemistry Patricia Dos Santos. In addition to funding research that helps scientists better understand life on earth, the grant also enables her to mentor students from other Triad-area colleges.
The grant builds upon Dos Santos' previous research towards understanding the formation of iron-sulfur clusters in cells. How these clusters – which are essential to fundamental processes such as cell respiration, gene expression and enzyme activation – develop through complex biosynthetic pathways still puzzles scientists. Once they understand the reactions that originally led to the formation of iron-sulfur clusters, it is possible that such a biochemical breakthrough would lead to pharmaceutical advances.
Like archeologists at a dig, Dos Santos and researchers in her lab work backwards, conducting experiments to piece together how these two metals are combined and became essential to life. To gather clues about the twists and turns along the pathways involved in iron-sulfur cluster synthesis, they study bacteria to see how they assemble these structures. Dos Santos' current NSF grant zooms in on an aspect of her research group's previous work. Earlier, they identified important genes in the biosynthetic pathway associated with iron-sulfur cluster formation in the Gram-positive bacteria Bacillus subtilis.
"There are a number of genes in those pathways involving sulfur transfer that we know are essential," said Dos Santos. "However, it is challenging to reproduce these biosynthetic processes in the test tube. The problem is that in vitro reactions often include artificial agents, chemicals that mask out the role of these essential components. To better understand the gene's role in the process, nonessential reaction ingredients – middlemen – must be cleared away."
Dos Santos plans to compare the effectiveness of synthesized versus physiological reagents in this clean-up effort.
In addition to supporting graduate students in her lab, Dos Santos is thrilled to continue a program that she started after her first year as a professor at Wake Forest. She will host two undergraduates from nearby Salem College and Guilford College to give them hands-on biochemistry research experience. Her multifaceted project enables the opportunity for intensive research training; undergraduates will learn to generate bacteria and isolate enzymes in combination with the basics of synthetic organic chemistry. This is a unique chance for these students to see what research is like at a PhD granting institution.
Her program extends beyond the laboratory; Dos Santos set up a career development infrastructure to support Wake Forest undergraduates along with visiting students in the spirit of Pro Humanitate. Through a collaboration with the Translational Science Center, she provides summer workshops on setting STEM career goals and how to be mindful of career development as you complete an undergraduate education.
"Wake Forest should not be contained within the campus walls. We should be reaching out to the community and helping out, because we are also benefitting from those interactions." Patricia Dos Santos, associate professor of chemistry
Dos Santos has already made an impact. Of 20 visiting undergraduate researchers who have participated in the program since 2010, 16 have pursued careers in medicine or another STEM field. Ashley Edwards is an example of the success Dos Santos's research program can precipitate.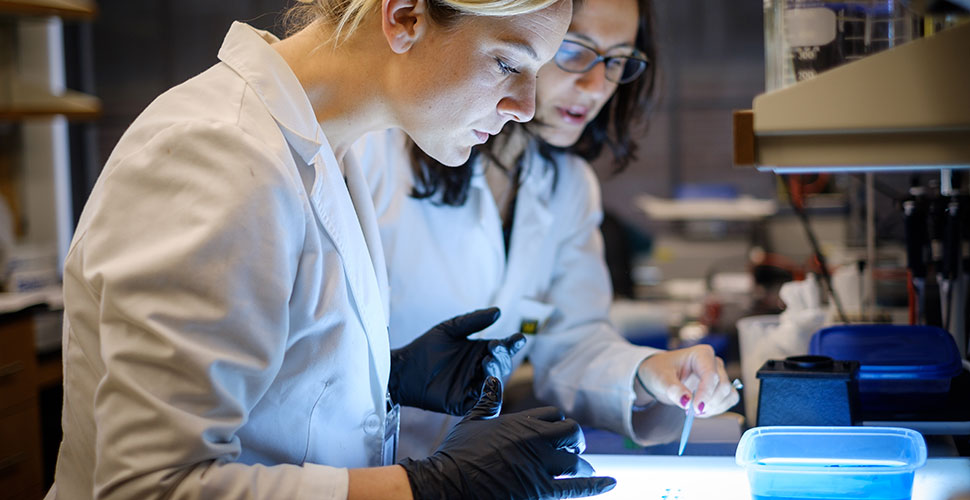 At 24, Edwards was a non-traditional student at Guilford College working towards a degree in biology with a minor in chemistry when she came to do summer research in the Dos Santos lab. The biochemistry research was challenging and Edwards might have crumbled under the pressure. "I always had questions, because most of the experiments I was charged with completing required critical thinking along with comprehensive analysis," she says. But Dos Santos intentionally trains her graduate students on how to be good mentors and encourage undergraduates as they build their expertise.
"I definitely think that empowering graduate students to be teachers and mentors has a tremendous impact on their own education." Patricia Dos Santos, associate professor of chemistry
Next summer Edwards will feel what it's like to wear the mentor's shoes. She is now a Wake Forest graduate student whose stipend will be paid through the current grant.
"Working in the lab day in and day out with incredibly high expectations while being supplemented with positive reinforcement is what initially drew me away from professional school and attracted me to graduate school," said Edwards.
The selection committee will soon review applications from undergraduate students at area schools, and one of those accepted into the program will join Edwards in the lab next summer.
Dos Santos is grateful to continue to provide her students with an important research and mentoring experience. "When I found out I got the grant I immediately rushed to my lab and celebrated with my students," Dos Santos said. "My success is their success."