Main Content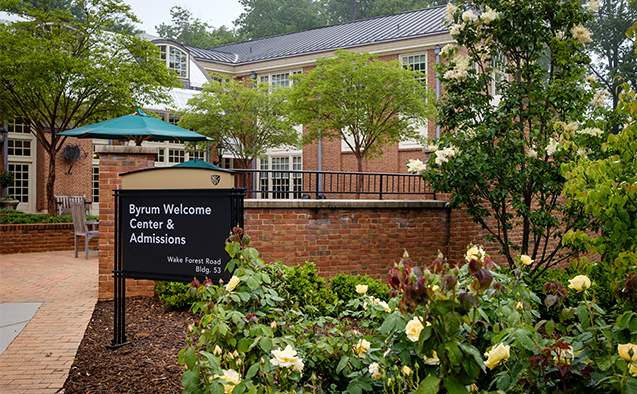 Wake Forest University has set ambitious new goals for supporting high-achieving, low- and moderate-income students socially, academically and financially from before they arrive on campus to graduation.
The University is among 86 of the nation's most respected colleges and universities in an alliance to substantially expand the number of talented low- and moderate-income students at America's undergraduate institutions with the highest graduation rates.
This growing alliance, called the American Talent Initiative (ATI), supported by Bloomberg Philanthropies, brings together a diverse set of public and private institutions united in this common goal. ATI members pledge to enhance their own efforts to recruit, enroll and support low- and moderate-income students, learn from each other and contribute to research that will help other colleges and universities expand opportunity.
"Wake Forest has historically been a place where students from all walks of life, including those with limited financial resources, have been welcomed and prepared for limitless futures." Bill Wells, director of financial aid
"Our participation in the American Talent Initiative speaks volumes of our commitment to diversity and inclusion," said Wells.
As part of a national effort to increase opportunity for an additional 50,000 talented, low- and moderate-income students at top-performing colleges and universities by 2025, Wake Forest will increase the share of Pell recipients enrolled by more than 40 percent and increase the share of students who receive need-based aid by 25 percent.
All institutions aim to improve socioeconomic diversity through a number of strategies expected to drive enrollment among high-achieving, lower income students, including:
Identifying talented students through better recruitment of qualified high school graduates and high-achieving transfer students from community colleges and other schools
Reaching out directly to the neediest families nationwide to increase the number of Pell-eligible students enrolled, the number of applications from Pell-eligible students, and the number of first-generation students enrolled
Removing cost as a barrier to access by increasing need-based aid to make attendance more affordable
Retaining and graduating lower-income students at rates comparable to their higher-income peers
The American Talent Initiative seeks to ensure that high-achieving, lower-income students have a path to attend and thrive at the institutions with the highest-graduation rates and best track records for post-graduate success.
More about the American Talent Initiative in the New York Times.
Categories: Admissions, Top Stories, Valuing Diversity