Main Content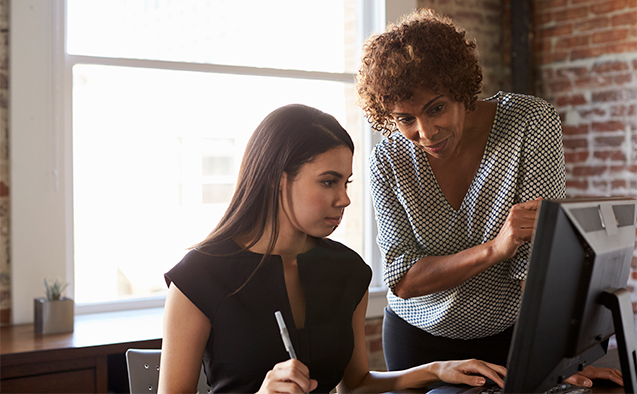 The tight labor market combined with a positive economic outlook are making recruiting, hiring and retaining top talent more challenging. Summer internships for college students are win-win when organizations teach students about their work environment and test-drive potential hires.
When sociology major Alex Reyes, a first-generation college student at Wake Forest, interned in marketing with an international consulting firm, she felt like a fish out of water. "I didn't understand the terminology or have the proficiency in spreadsheet and presentation software that interns studying business brought with them," Reyes said.
But what she brought with her were the soft skills many businesses report they most need.
"The company showed me how to apply my communications and teamwork skills to their work culture. Email etiquette training, for example, made a difference in my confidence in how to interact professionally. And when I was unsure of how and when to contribute in group settings at the office, my mentor encouraged me to put my thoughts out there more confidently."
Reyes secured a second summer internship offer at the same company in its financial consulting division, which led to full-time job offer. She will begin her career there after graduation in May.
Through summer internships, businesses can experience first-hand a student's eagerness to take on challenging projects, willingness to learn industry-specific skills, and initiative in reaching out to team members with questions.
"Any size company – from start-up to major corporation – can use a summer internship to both show college students how their coursework will translate into the workplace and connect with soon-to-be grads who might want to contribute to the organization's goals as permanent hires," says Lauren Beam, a mentoring expert in the Office of Personal and Career Development at Wake Forest University.
Beam, who focuses on the characteristics of young professionals in the workplace, offers these suggestions for managing 18 to 24-year-olds during summer internships:
Present interns with real problems they can solve. College students today are passionate about making a difference in the world. Discover what they value particularly as it relates to the work and mission of your organization. Offer your interns opportunities to work on projects in which they will become invested. They want to learn new things, research, finds solutions and build expertise.
Tap into their knowledge and experience with technology. They are highly skilled in using multiple screens, apps and digital platforms simultaneously. Their knowledge and experience with technology could be a huge asset to your business.
Provide opportunities for interns to see how their work connects on a global scale. Gen Z is the most diverse, multicultural generation ever. Consider how they can help your organization engage with international and diverse clients and business partners.
While Gen Z brings important strengths, skills and perspectives to the workplace, managers can boost their professionalism by helping them:
Develop situational awareness. For example, depending on your organization's culture, using a phone during meetings or important conversations may be a no-no or perfectly acceptable.
Hone their communications skills, both written and verbal, in a supportive environment.
Build relationships and networks. Be a connector by helping them set up lunch meetings with colleagues or with other leaders in your industry.
Junior business major Maia Scacchi recently accepted an internship after meeting the company's national recruiter at a diversity networking event at Wake Forest the day before an on-site career fair. Internships earlier in her college career focused on the news and communications field. Her upcoming one will give her a chance to experience work at a large, multinational corporation.
"This summer, I'll be going out to participate in in-store promotions then joining behind-the-scene team discussions at the office," said Scacchi. "Making a difference is important to me. The company emphasized that they value their employees' time and experience, and I'm excited to figure out how what I've learned in my classes has real-world application."
Read more about Managing Generation Z Students in Summer Internships on Wake Forest University's Mentoring Resource Center blog.
Lauren Beam, Alex Reyes and Maia Scacchi are available for interviews.
Categories: Mentoring, Personal and Career Development, Student, Top Stories
Wake Forest in the News
Wake Forest regularly appears in media outlets around the world.