Main Content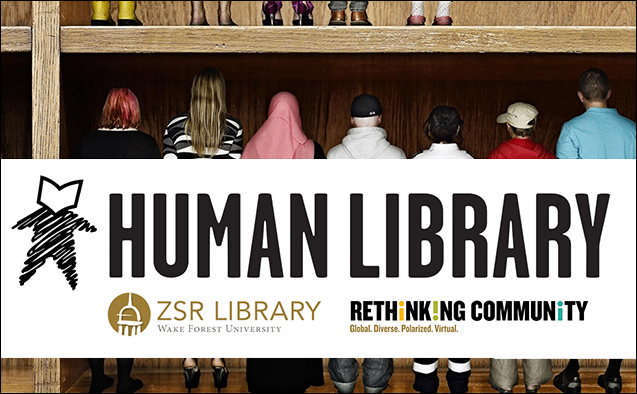 The Z. Smith Reynolds Library at Wake Forest University and the C.G. O'Kelly Library at Winston Salem State University are teaming up to lead a "Human Library" event on Friday, March 23, from 3-6 p.m.
The event will be held at Wake Downtown, Wake Forest's urban campus. It is not open to the general public.
During the event, people take the place of books and are "on loan" to attendees who want to learn more about the person.
Numerous human books representing different ethnicities, beliefs and experiences, will be available for "check-out" from Wake Forest and Winston-Salem State University. By checking out a "living book," readers have an opportunity to have conversations that can challenge stereotypes and prejudices. Difficult questions are expected, appreciated and answered.
"This academic year, the University has committed to reaching out to other colleges and universities to build stronger campus communities," says Associate Librarian Hu Womack. "Conversations and storytelling help build empathy and when we try to understand the world through another person's experiences, we see there are very often more similarities than differences."
"We are able to build a culture of diversity and inclusion when we make time to listen." Hu Womack, associate librarian
The Human Library was developed in Copenhagen in the spring of 2000. The original event was open eight hours a day for four days straight and featured more than fifty different titles. The broad selection of books provided readers with ample choice to challenge their stereotypes.
Categories: Events, Top Stories, Valuing Diversity
Subscribe
Sign up for weekly news highlights.
Subscribe