Main Content
Former President George H.W. Bush's two visits to Wake Forest University gave students, faculty and staff a front-row view of American politics in the 1980s.
He died on November 30. He was 94.
The first of Bush's two appearances at Wake Forest came in 1984 during a Presidential campaign visit for Ronald Reagan. Four years later, Bush returned to campus for the first 1988 Presidential Debate with then-Massachusetts Gov. Michael Dukakis – an event that symbolically marked Wake Forest's evolution from a regional to a national university.
In light of Bush's passing, today alumni who worked in the White House during his administration or were involved with the debate as students remember him as a kind, warm individual who showed genuine interest in the lives of Wake Foresters.
Reflecting upon the 1988 debate
Scott Dubois ('89), Beth Dawson McAlhany ('89) and Mike Smith ('89) proposed the idea of hosting a Presidential debate in 1987, and with support from University leaders and their classmates, the 1988 debate would soon become reality.
"They wanted to have a Presidential debate at Wake Forest and had done extensive research on the then-brand new Commission on Presidential Debates," said Sandra Boyette, who during her 35-year career at Wake Forest took on roles such as Vice President for Public Affairs, Vice President for University Advancement and Senior Advisor to the President.
At Wake Forest President Thomas Hearn's request, she met with the students just three days after starting her post as the Director of Public Relations. "I began contacting alumni in Washington, D.C., and North Carolina to get their help in endorsing Wake Forest to the Commission."
Smith, who is now president of Kane Realty Corporation in Raleigh, and Boyette teamed up to make a presentation to the executive director of the Commission while University Relations Vice President Bill Joyner worked with local supporters to financially back the idea.
During a press conference in February 1988, Wake Forest announced it was selected by the Commission to host the Sept. 25, 1988 debate.
"Today's announcement says much about Wake Forest," Smith told reporters. "It signifies the strong relationship that the administration has with the students."
"It shows Wake Forest's ability, strong reputation and commitment to achieve what, at first, seemed like a most unreachable goal." Mike Smith ('89)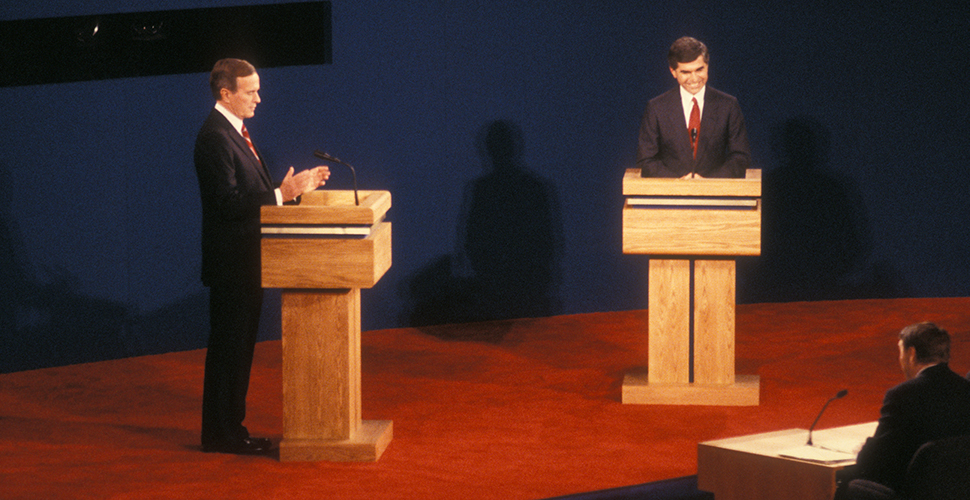 Front-row seat to a future Presidency
"The intensity over the summer leading up to the debate was incredible. It was a major dive into an extraordinary, national event," said McAlhany, who is now Wake Forest's director of development for the Northeast region.
The debate heightened students' interest in the political process, gave them an inside look and made their Wake Forest experience unique.
"The debate gave students a front-row view of the media, how they work and how they produce news," Dubois said. "I had friends working for NBC and ABC and they got to hang out with Sam Donaldson, Tom Brokaw, David Brinkley and Chris Wallace. It was great to see the world come to Wake Forest."
Watch the entire 1988 Presidential Debate
"To see camera crews and news organizations at your school and Tom Brokaw walking around campus was surreal," McAlhany said. "Wake Forest had a fantastic reputation, but we were just turning the corner to be considered a national university. You could feel this was helping propel us forward."
An estimated 600 Wake Forest students participated in some manner in the debate. Many of those students assisted news organizations, supported the Commission and guided visitors on campus. Some had the opportunity to meet the next Commander in Chief.
"We met President Bush before his Wait Chapel walkthrough," said Dubois, who is now the Apple HQ Sales Lead for AT&T. "I remember how he took the time to speak with each person in the group. He was about to debate in front of the entire world and beforehand he took 20 minutes to meet a bunch of college kids. He was such a good and decent man."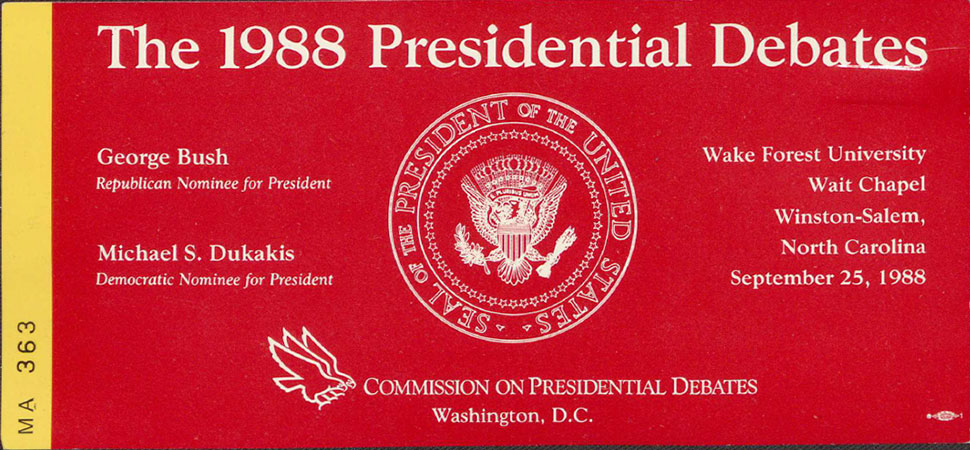 From Wake Forest to the White House
Smith went on to work in Bush's administration at the White House after he graduated from Wake Forest in 1989.
"I had the opportunity to work in the Office of Political Affairs at the White House during the first year of President Bush," Smith said. "He always went out of his way to say hello and was incredibly kind and engaging. It was great to work in the White House that fall alongside Brian Yablonski ('89) and Cal Smith ('90). We had quite the Demon Deacon crew in the White House."
While Yablonski didn't have a direct role in the debate, he did make signs welcoming Bush to campus and helped with crowd turnout for the campaign. Although he stood outside Wait Chapel during the debate, he enjoyed a much closer view of Bush following graduation.
"I found myself working directly for President Bush as a personal staff assistant in a small office about 15-feet away from the Oval Office," Yablonski said. "An opportunity of a lifetime. Showing his sense of humor, he even designated me the White House Horseshoe Commissioner."
"President Bush is the greatest man I have ever known – a World War II hero, a statesman, the model public servant, and an incredibly gracious person. To this day, he has influenced my life in so many meaningful ways." Brian Yablonski ('89)
Years later, Yablonski worked as former Florida Governor Jeb Bush's deputy chief of staff and is now the executive director of the Property and Environment Research Center in Bozeman, Mont. He returned to Wait Chapel for the 2000 debate between former President George W. Bush and former Vice President Al Gore.
He sat on the second row that night.
Additional Wake Forest connections to George H.W. Bush include:
His son, then-Texas Gov. George W. Bush, debated in Wait Chapel in 2000 before becoming president.
Henry Hager, who is married to Bush's granddaughter Jenna Bush Hager, is a 2000 graduate of Wake Forest.
First Lady Barbara Bush delivered Wake Forest's Commencement address in 2001. She was awarded an honorary doctorate of humanities during the ceremony.